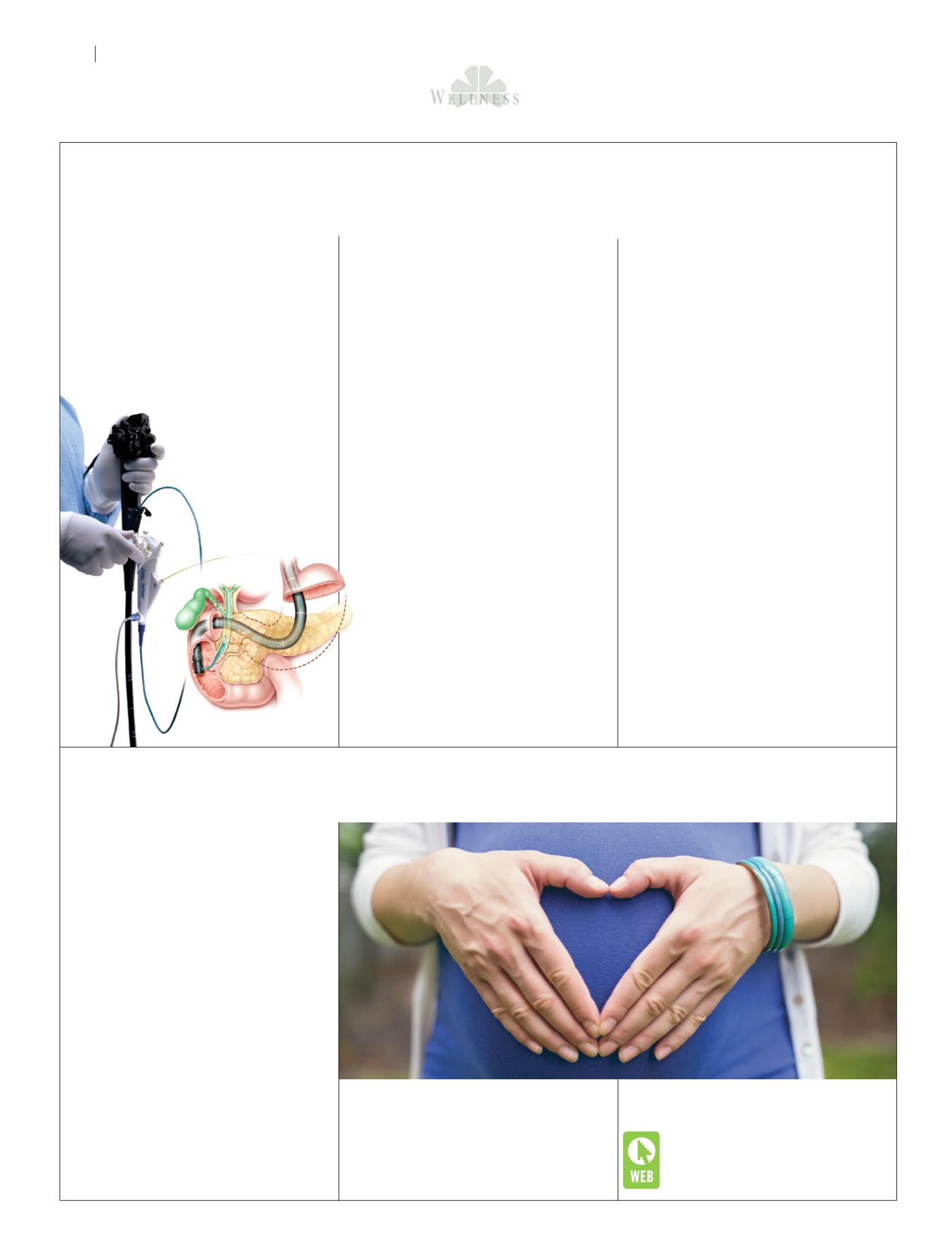 *
™
NONINVASIVE FETAL TESTING
Now available to
all pregnant moms
NONINVASIVE FETAL TESTING
provides a safe way
for obstetricians to determine if there are chromosome
abnormalities present in a developing baby. This form of
testing, also called cell-free DNA (cfDNA) screening, is
available at each Shannon OB-GYN office.
HOW IT WORKS
This screening blood test is done after
10 weeks of pregnancy. For the test, DNA from the baby
is extracted from a maternal blood sample and tested
for the presence of several specific chromosome prob-
lems, such as Down syndrome. The test also identifies
the baby's sex.
Your obstetrician may recommend noninvasive fetal
testing for several reasons:
● 
●
You have certain risk factors for having a baby with
a chromosomal condition, including maternal age past
35 or if you have previously given birth to a baby with a
chromosomal condition.
● 
●
If you are the carrier of an X-linked recessive disorder,
such as Duchenne muscular dystrophy or hemophilia,
knowing the sex of the baby is important and can be
determined earlier than with an ultrasound.
Until recently, the test was only offered to high-risk
women, but now it is frequently offered to all pregnant
women who start prenatal care early in pregnancy. Early
prenatal care is important.
This type of prenatal screening poses no physical risks
for you or your baby. There are some limitations to the
testing, and your doctor will determine if this testing
method is appropriate for you and your baby.
For more information, please consult
your Shannon OB provider, or go online to
www.shannonbabies.com
.
The SpyGlass®system is used by
Shannon gastroenterologists to
gain access to the hard-to-reach
anatomy of the bile and pancreas
ducts. This technology provides
physicians with easier access
as well as full-color visuals,
better biopsy capability
and laser fragmentation
of stones located in the
pancreas and bile ducts.
SPYGLASS HELPS DOCTORS SEE INSIDE
New technology keeps care close to home
YOU KNOW
your doctor uses a light to look in your eyes
and a stethoscope to listen to your heart, but how about a
spyglass? Sure enough, that's one of the new tools avail-
able at Shannon Medical Center.
Offering diagnosis, treatment and recovery close to
home is part of the Shannon mission. Adopting advanced
medical techniques is helping reach that goal. The Spy-
Glass Direct Visualization System from Boston Scientific
is the latest state-of-the-art technology in use by the gas-
troenterology department at Shannon.
WHAT DOES THE SPYGLASS SEE?
The SpyGlass is used
by Shannon gastroenterologists to examine the bile
and pancreas ducts, where biliary stones and cancers
can occur. The system is equipped with a miniature
6,000-pixel fiber-optic probe. It captures a full-color,
3-D image and can reach into the pancreatico-biliary
anatomy.
Levi Hubble, MD, Shannon Clinic gastroenterologist,
received fellowship training for the SpyGlass device at
Scott & White in Temple, Texas.
"It's an impressive technology," Dr. Hubble says. "This
scope allows us to directly examine the bile and pancreas
ducts, which are difficult anatomies to reach in the body.
The bile duct is very tiny—only 3 to 5 millimeters wide.
We can examine bile duct strictures, which is a narrowing
of the ducts, and biopsy and diagnose cancers involving
the bile and pancreas ducts. This is also a tremendously
helpful tool for breaking up bile duct stones."
Previously, this area was examined using conventional
endoscopic retrograde cholangiopancreatography (ERCP).
Projected onto the screen was a flat image that the physi-
cian would use to determine areas of concern.
If a biopsy was needed, a brush-like device was
used to swab the area of concern. If additional
therapeutic intervention was required, the patient
was referred to a specialist outside of San Angelo
for treatment.
HOW IT HELPS
"This technology helped me diagnose
a rare autoimmune cholangitis, which would not have
been possible at our facility prior to using the SpyGlass,"
Dr. Hubble says. "The patient was referred out to ensure
he did not have an underlying mass, but we were able to
send him to a specialist with a firm diagnosis."
Now, the SpyBite, a forceps attachment, allows for a
small piece of tissue to be taken from the area.
"With this technique, we can eliminate the need to send
patients away for more invasive procedures," Dr. Hubble
says. "For biopsies, the forceps allows us to look directly
at the area we want to retrieve a sample from, and we can
determine if cancer is present. The capability to biopsy
and reach this part of the anatomy provides a more ad-
equate sample for pathology and also helps us rule out
cancer and other diseases."
In addition to the fiber-optic probe and forceps, the
SpyGlass features a laser attachment used for laser litho-
tripsy. During this procedure, a pinpointed laser is used
to break up biliary stones, which are gallstones that have
become lodged in the bile ducts.
"These stones can cause agonizing pain and other is-
sues if left untreated," Dr. Hubble says. "The use of the
laser to break up the stones eliminates the need for an
open duct exploration, which is a major procedure we
would send the patient off for. It is invasive and can also
cause future concern for the patient, including bile duct
strictures, which also requires surgical attention."
WHAT TO EXPECT
Most procedures involving the Spy-
Glass take one to two hours as an outpatient, day-surgery
procedure and are performed in the operating room at
Shannon Medical Center.
"Any time we can bring a new technology to Shannon
and to our area, that's a positive for our patients and for
us as physicians," Dr. Hubble says. "This is a tremendously
helpful tool that allows us to keep patients close to home
while providing them with state-of-the-art care."
We l l n e s s
6
S U M M E R 2 0 1 6
H E A L T H
B E A T