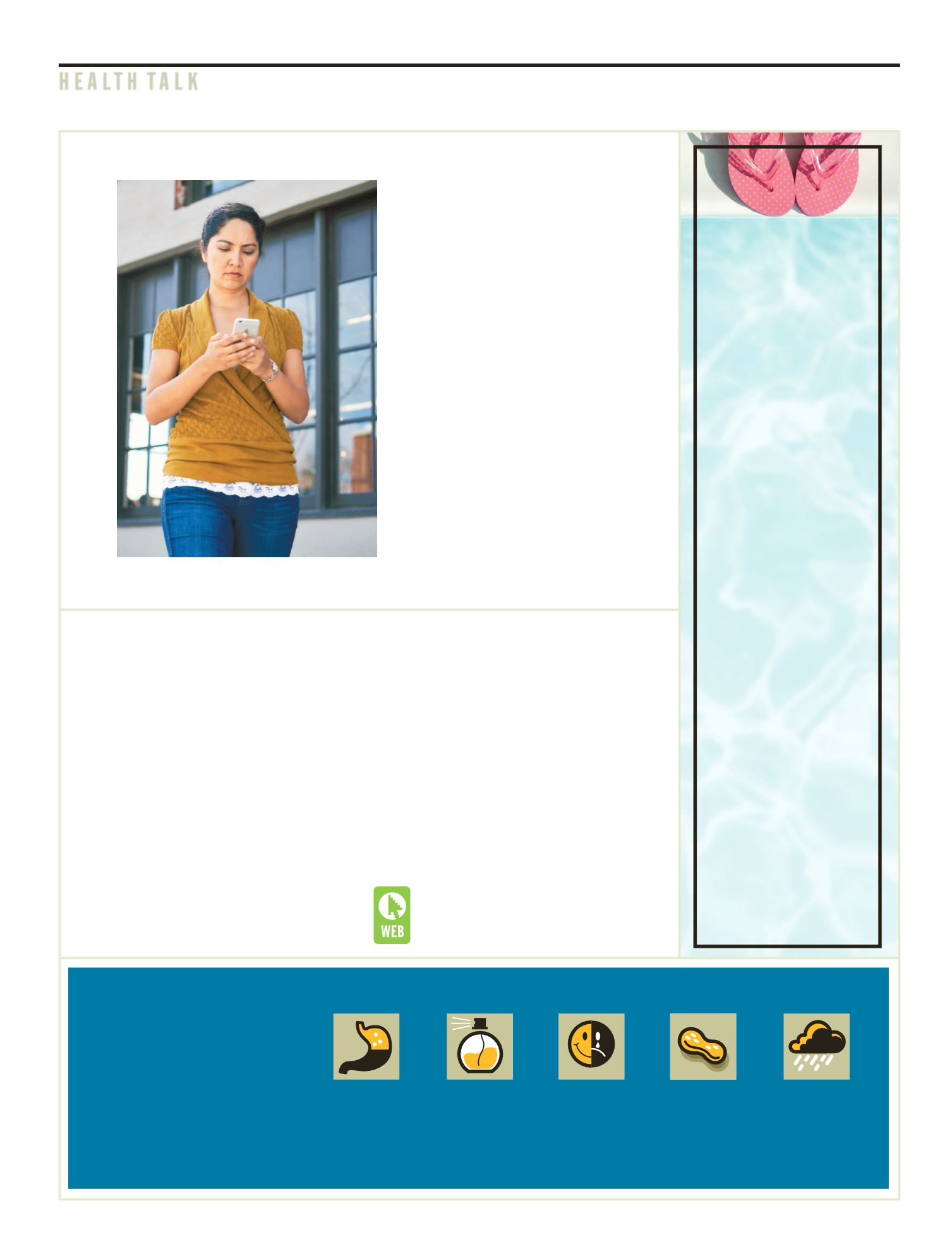 Look up!
The dangers of distracted walking
Smoke. Dust mites.
Feathery and furry pets.
These are all fairly
well-known triggers of
asthma symptoms.
Even if you don't have
asthma, you might rec-
ognize them as a sort of
Most Likely list of things
to cause fits of wheezing
and coughing in people
who do have the chronic
lung disease.
But then there are the
lesser-known culprits.
These are items or
activities that even
people with asthma
might not realize can
cause symptoms to get
worse.
Here are five of them:
Test your asthma knowledge: 5 triggers that might just surprise you
Acid reflux.
When
stomach acid flows
up the esophagus, it
irritates nerves con-
nected to the lungs.
Strong smells.
Per-
fumes, cleaning prod-
ucts and other odors
are airway irritants.
Emotions.
Stress or
laughing or crying
hard can speed up
breathing.
Food allergies.
This
immune system over-
reaction can inflame
the esophagus.
Weather.
This
includes dry, wet or
windy weather and
extreme changes in
temperature.
Sources: American College of Allergy, Asthma & Immunology; American Lung Association
Hey, watch where you're walking!
That's a modern-day warning more of us need
to heed.
Whether we're lost in the music coming through
our earbuds, talking on our phones or sending some
texts, many of us aren't focused on what's in front
of us as we move throughout the day—a potentially
dangerous situation known as distracted walking
that puts us at risk of things like falling down stairs,
stumbling into the street or colliding with a car.
So the next time you're on a stroll:
● 
●
Keep your focus on the people and potential
obstacles in front of and around you.
● 
●
Turn down the music enough to hear the traffic
and other sounds around you.
● 
●
Don't jaywalk. Cross streets carefully, prefer-
ably at a light.
● 
●
Be sure to look up, especially near curbs, inter-
sections, stairs and escalators.
Source: American Academy of Orthopaedic Surgeons
PROSTAT I T I S
A common, painful problem for men
Out of sight, out of mind. That's usually how it is with men and
their prostate. But that's not the case when a guy is coping with
prostatitis, an often uncomfortable inflammation of the gland.
What prostatitis feels like
Signs and symptoms of prostatitis
can vary, depending on the type (one type doesn't cause symp-
toms) and even from one man to the next. But they generally
include the following:
● 
●
Pain around the genitals, pelvic area, or the lower belly or
back.
● 
●
Painful urination or ejaculation.
● 
●
A frequent or sudden urge to urinate.
Prostatitis symptoms that are chronic may come and go,
linger for months, or be mild all the time.
Acute symptoms start suddenly and are severe. They can
include fever and chills, nausea and vomiting, and a blocked
urine stream.
Acute prostatitis needs to be treated right.
How it's treated
Prostatitis may be treated with a course of
antibiotics, either for several weeks or up to six months.
Other treatments, which might help relieve symptoms or
keep them from coming back, include:
● 
●
Medications to improve inflammation or painful or difficult
urination.
● 
●
Warm baths or hot pads to ease pain.
● 
●
Dietary changes that limit caffeine and foods that can irritate
the bladder.
● 
●
Fluids to help clear infections.
Learn more
For more information about prostatitis,
go to
www.shannonhealth.com
and click on "Health
Library" under the "Education & Resources" tab.
Sources: National Institutes of Health; Urology Care Foundation
10 top tips for
flip-flop season
Whenever warm weather's
here, flip-flops appear. To make
sure these trendy summer
sandals don't take a toll on your
tootsies:
DO
■
■
Choose flip-flops made of soft,
good-quality leather rather than
plastic or rubber. Leather is less
likely to cause blisters.
■
■
Make sure they're flexible
enough to bend at the ball of the
foot, but not so flexible you can
fold them in half.
■
■
Check that none of your foot
hangs over the edges.
■
■
See a doctor if wearing flip-flops
causes pain or tenderness in your
heel or arch.
■
■
Flip them! Invest in new ones
when your current pair shows
signs of wear.
DON'T
■
■
Ignore irritation between your
toes. It could lead to blisters or
infections.
■
■
Walk long distances in flip-flops.
They don't offer enough support or
absorb shock.
■
■
Wield a weed trimmer or ma-
neuver a lawn mower in flip-flops.
Shoes that cover the whole foot
are best for all yard work.
■
■
Play sports in them. (That
includes riding a bike.)
■
■
Drive a car wearing flip-flops.
They could cause you to hit the
gas instead of the brake—and
crash.
Sources: American College of Foot and Ankle
Surgeons; American Podiatric Medical Association
S U M M E R 2 0 1 6
H E A L T H B E A T
3
N E W S , V I E W S & T I P S
H E A L T H T A L K