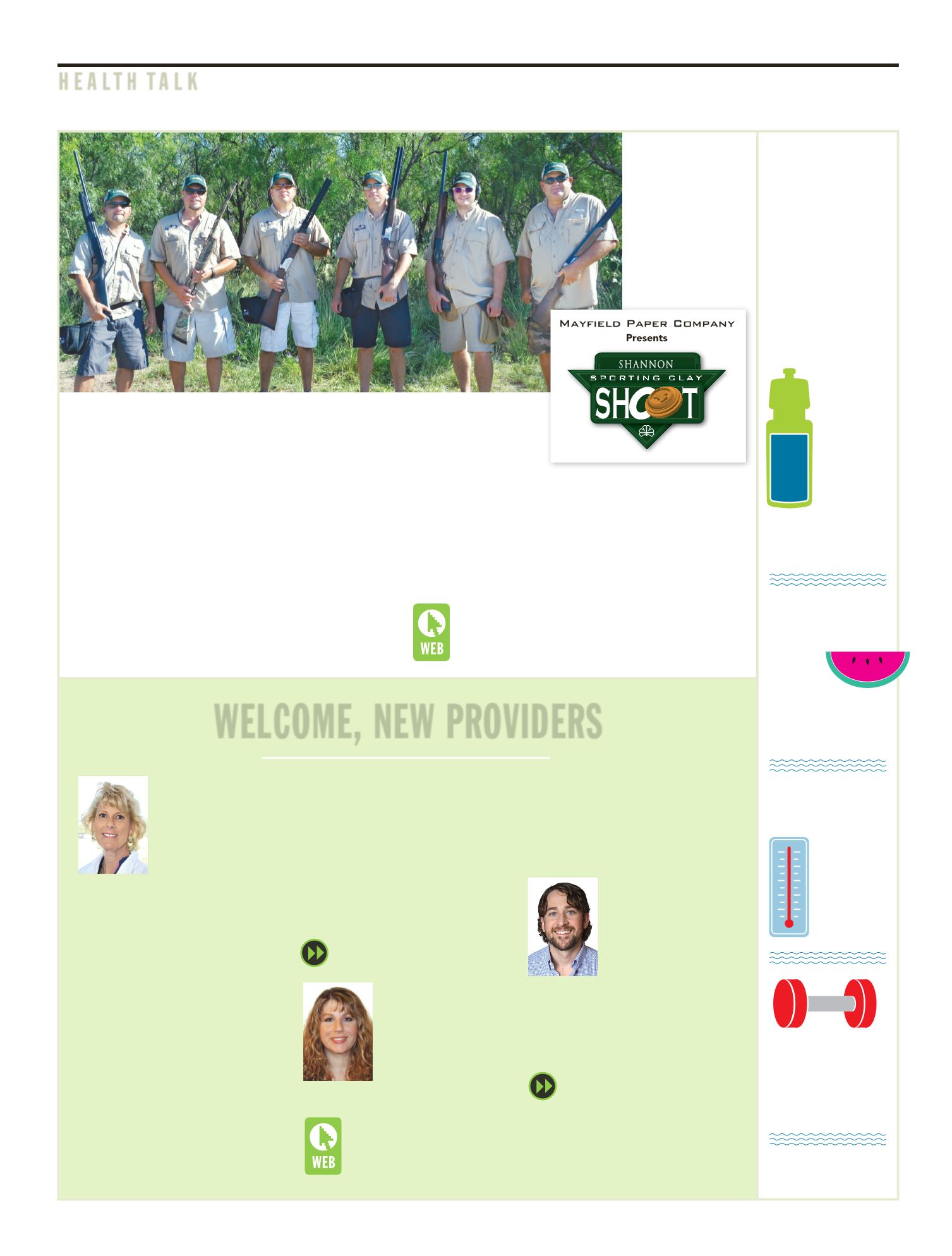 Shooters and spectators travel to the Concho Valley from miles around
to attend the largest charity shoot in Texas—the Shannon Sporting Clay
Shoot. After 16 very successful years, the Shannon Sporting Clay Shoot
attracts more than 700 shooters from around the state and country and
more than 1,500 spectators and volunteers.
The 17th annual shoot is scheduled for Friday and Saturday, July 15 and
16, at the San Angelo Claybird Association in San Angelo.The event features
three shooting rotations. The first rotation will be Friday, July 15, at 4 p.m.
The second rotation will be Saturday, July 16, at 8:30 a.m., and the third will
be on Saturday at noon. Shooters will get to shoot one of three courses dur-
ing a rotation with 100 targets per course. Forty guns will be given away by
random draw during the exciting live auction, which rounds out the event.
Christina Hill, MD,
Maternal-Fetal
Medicine
Shannon Clinic is proud
to welcome Dr. Hill to its
OB-GYN team. As a mater-
nal-fetal specialist, she spe-
cializes in high-risk pregnancy and works with
expectant mothers with chronic health issues.
Maternal-fetal specialists also diagnose birth
defects and growth problems and can initiate
treatment before birth.
Dr. Hill received her bachelor's degree from
Colorado State University and her medical de-
gree from the University of Colorado Health Sci-
ences Center. She completed her obstetrics and
gynecology internship and residency at Tripler
Army Medical Center in Honolulu, Hawaii.
After her residency, Dr. Hill was stationed
at Eisenhower Army Medical Center in Fort
Gordon, Georgia, where she worked as a staff
physician. She then completed fellowship
training in maternal-fetal medicine at Madigan
Army Medical Center in Fort Lewis, Washing-
ton. While on active duty, Dr. Hill was deployed
to Iraq. Her military awards include four Army
Commendation Medals, two Meritorious
Service Medals and the Iraqi Campaign Medal.
Dr. Hill joins her husband, Melvin Hill,
an obstetrics-certified registered nurse
anesthetist, at Shannon from Tripler Army
Medical Center in Honolulu. She will work
with the Shannon OB-GYN team in the office
and hospital setting. She is certified in
obstetrics and gynecology and maternal-fetal
medicine by the American Board of Obstetrics
and Gynecology. Her office is located at
the Shannon OB-GYN and Pediatrics Clinic,
225 E. Beauregard Ave. For more
information, please call
325-481-2285
.
Anda Scorza, DO,
Hospitalist
Dr. Scorza received her bach-
elor's degree from Indiana
University–Northwest. She
earned her medical degree
from Midwestern University
Chicago College of Osteopathic Medicine.
Dr. Scorza completed her internal medicine
residency at Michigan State University/Western
Michigan University Homer Stryker M.D. School
of Medicine.
As a hospitalist, Dr. Scorza cares for pa-
tients in the hospital setting.
Daniel Kern, RN,
MSN, FNP,
Neurosurgery
Kern received his bachelor's
and nursing degrees from
Angelo State University. He
earned his master's degree
from the University of Texas at El Paso School
of Nursing.
Kern has experience in emergency and
neurology care. He is located in the Brain and
Spine Institute at Shannon on the second floor
of the Shannon Medical Plaza, 102 N. Magda-
len. For more information, please call
325-481-2193
.
HEALTHY
HYDRATION
Our bodies need water to
survive. Without enough
water or other fluids, we
can become dehydrated,
which is a serious health
risk—particularly in older
adults, kids and people
who are ill.
To stay well-hydrated:
DRINK
UP
Water is your
best option.
Keep a reus-
able bottle
with you
during the day.
Don't like the
taste of plain water? Try
adding a slice of lemon,
lime or cucumber.
FEAST
ON FRUITS AND VEGGIES
Many—like
watermelon,
cantaloupe,
strawberries, tomatoes,
spinach, broccoli and
lettuce—contain a high
amount of water.
Excessive heat
raises the risk
of dehydration.
Plan on drinking
more when
temperatures
soar.
EXERCISE
CAUTION
Drink water before, during
and after a workout.
Sources: American Academy of
Emergency Physicians; American
Academy of Family Physicians;
American Institute for Cancer Research
WATCH THE
WEATHER
WELCOME, NEW PROVIDERS
Let us connect you with a great caregiver. Go to
www.shannonhealth.com
and click on "Physician Finder."
SHANNON SPORT ING CLAY SHOOT
Take aim to support great health care
The 2016 Shannon
Sporting Clay Shoot
will be Friday and
Saturday, July 15 and
16, at the San Angelo
Claybird Association
in San Angelo. Visit
www.shannonhealth
.com to find out
more.
All shooters will receive a shooter gift and complimentary breakfast
and lunch. Along with the live auction, the event also includes a silent
auction, awards for the High Overall shooters and shooting games.
Each year, proceeds of the Clay Shoot benefit multiple departments
at Shannon. The programs benefiting from the 2016 event include
AirMed1-regional outreach, diabetes management outreach, outpatient
dialysis programs, and Shannon Care Coordination. In addition, three
new programs to benefit from this year's shoot are Shannon Cares Fund
for case management, Shannon Supportive Health Services and
Shannon Shared Governance for nursing education.
Visit
www.shannonhealth.com
to find out how to be a part
of this exciting event.
2
H E A L T H B E A T
  S U M M E R 2 0 1 6
N E W S , V I E W S & T I P S
H E A L T H T A L K