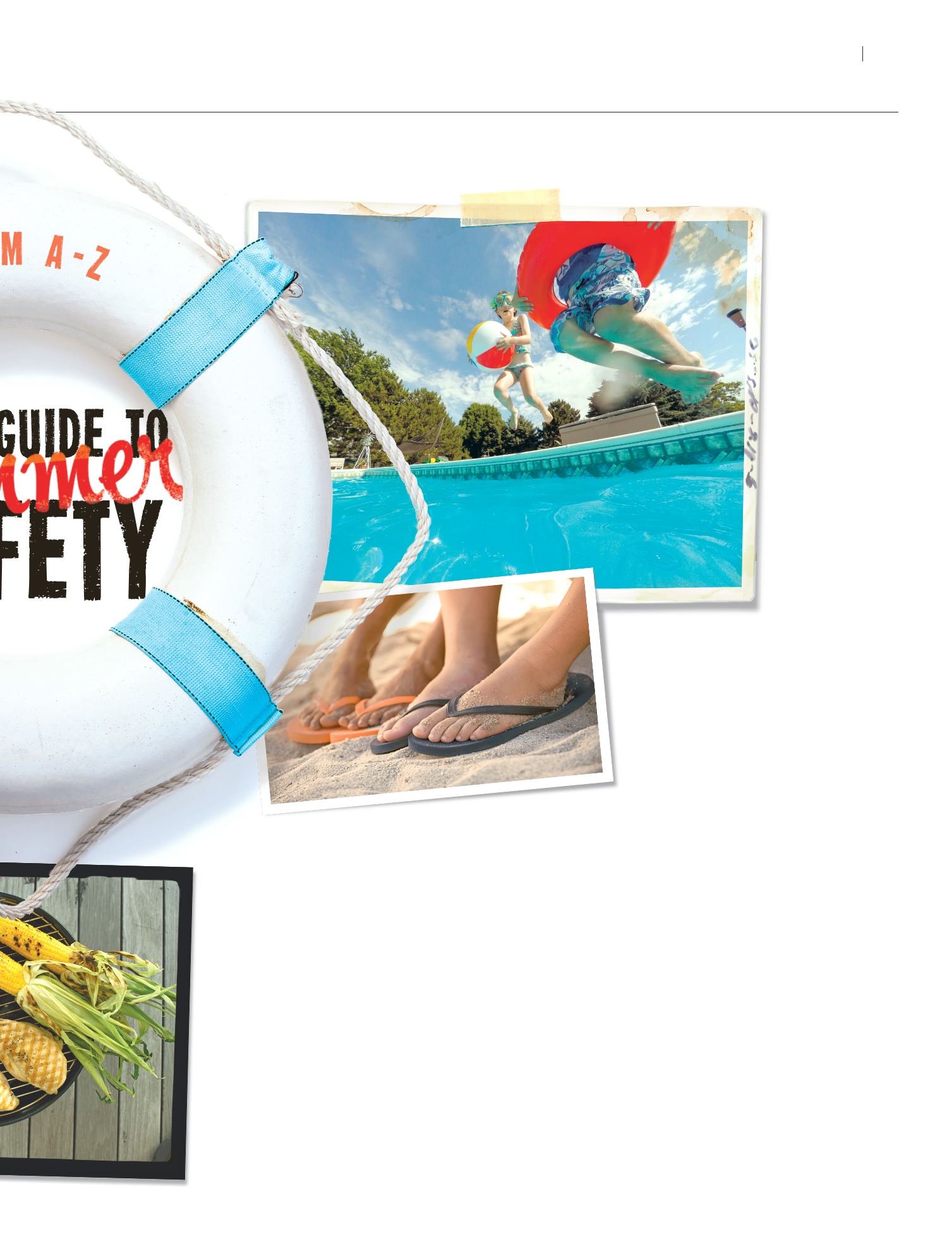 Most summer mishaps
don't require urgent
care. But if they do,
check our wait times at
www.shannonhealth.com.
it on at least 30 minutes before going out,
and reapply it every two hours or after
swimming or sweating.
T
icks.
Check everyone for ticks after
spending time in tall grass or wooded ar-
eas. If you find a tick on your body, remove
it by pulling it straight up with tweezers or
between your fingertips.
U
ltraviolet radiation.
It's what causes
the sun damage to your skin. Try to keep
your skin covered, and seek shade.
V
ehicle safety.
Heading down the
highway on a summer vacation? Make
sure everyone buckles up and your car is
in good shape. Also, never text or talk on
your phone while driving.
W
indow guards.
Warm weather means
open windows at your home, and open
windows—even ones with screens—can
be dangerous for kids. Consider installing
window guards to prevent children from
falling out of open windows.
X
--eXtra vigilance.
It's what's required of
adults when children are in or near water.
Don't take your eyes off them, even for a
moment. Practice touch supervision with
young kids—keep no more than an arm's
length away when they're in the water.
Y
ard work.
When mowing, keep chil-
dren indoors to prevent injuries from
flying debris. Never allow kids to ride as
passengers on lawnmowers or garden trac-
tors. And don't let kids use a walk-behind
power mower or hand mower until they're
at least 12 years old or operate a riding
mower until 16 years old.
Z
ZZs.
Get enough, especially before
beginning long car trips. Drowsy driving
can be deadly. If you do feel sleepy while
driving, pull over to a well-lit area and
take a short nap.
Sources: Academy of Nutrition and Dietetics; American Academy
of Allergy, Asthma & Immunology; American Academy of Family
Physicians; American Academy of Orthopaedic Surgeons; American
Academy of Pediatrics; American College of Emergency Physicians;
Centers for Disease Control and Prevention; National Safety Council;
Safe Kids Worldwide; U.S. Department of Agriculture; U.S. Food and
Drug Administration
P
oison ivy.
This very common plant is
found in most parts of the U.S. Avoiding it
begins with recognizing it. Remember this
saying: "Leaflets of three, beware of me."
Q
uiz your kids.
Always ask where they'll
be and whom they'll be with. It may help
reduce risky behaviors.
R
ecreational water illness from pools.
To reduce the dangers, practice good hy-
giene. Shower with soap before swimming,
and wash your hands after using the toilet
or changing diapers. Don't get in the water
when you have diarrhea, and don't swallow
pool water. Take your kids on bathroom
breaks, and check diapers often.
S
unscreen.
Use one that has an SPF
(sun protection factor) of 15 or higher and
is labeled
broad spectrum
—it will protect
against the sun's most harmful rays. Put
S U M M E R 2 0 1 6
5
H E A L T H
B E A T