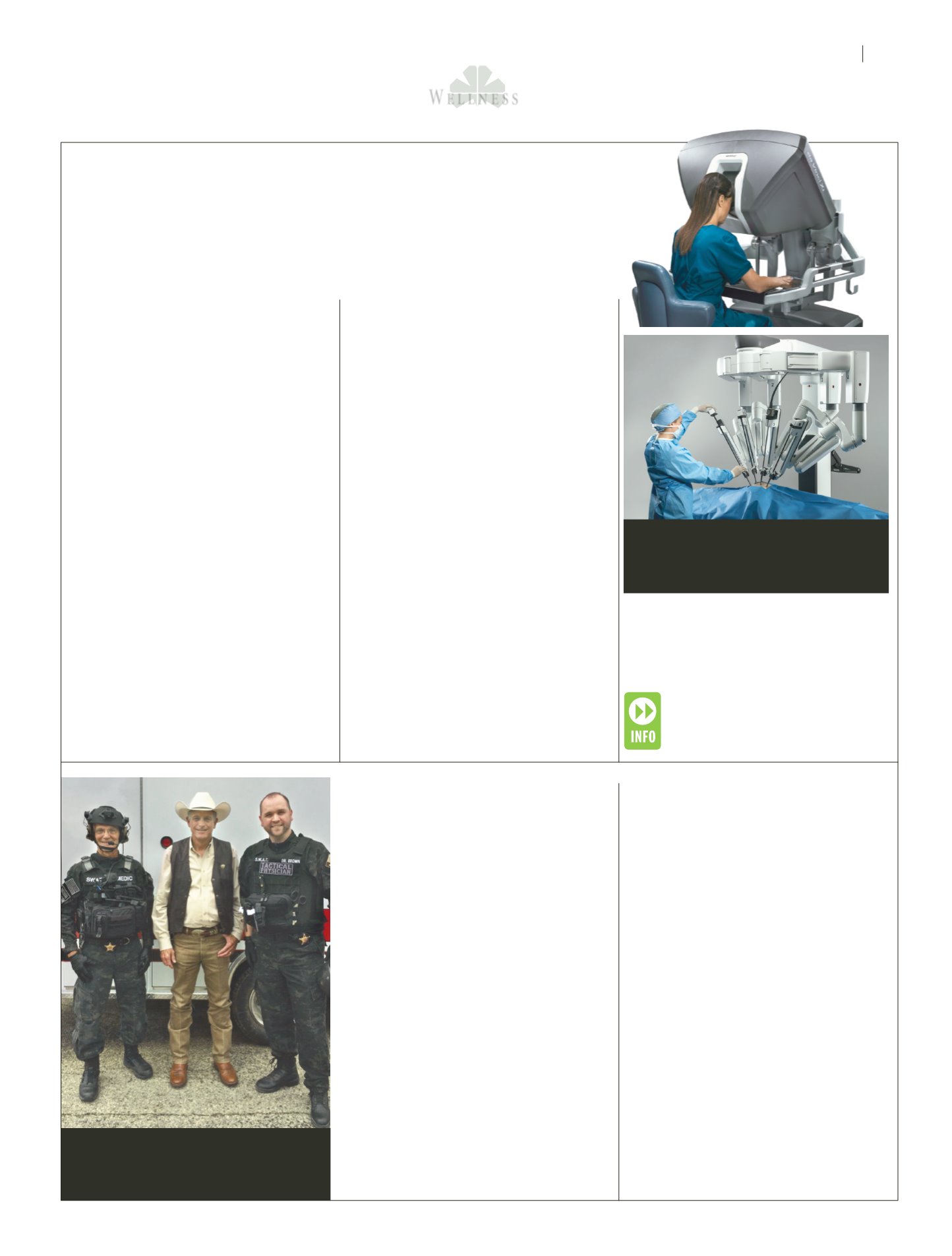 SHANNON BEGINS SURGICAL
ROBOTIC PROGRAM
Introducing the da Vinci® Xi™ Surgical System
A NEW SURGICAL
partner has taken up residence in
the Shannon operating room—the da Vinci Xi Surgi-
cal System. Shannon's mission to provide exceptional
health care to our family, friends and neighbors en-
compasses staying up-to-date with the latest medi-
cal technology, including advancements in surgical
techniques.
"The da Vinci Xi Surgical System, the latest da Vinci
model, was designed with the goal of further advanc-
ing the technology used in minimally invasive surgery,"
says Ian Rae, BSN, RN, Director of Surgical Services at
Shannon. "The system can be used across a spectrum of
minimally invasive surgical procedures."
The surgeon is 100 percent in control of the robotic-
assisted da Vinci Xi System, which translates his or her
hand movements into smaller, more precise movements
of tiny instruments inside the patient's body. Four small
incisions, 5 to 10 millimeters in size, are made during the
operation to accommodate the instruments.
The system is laser-guided and is placed in the pre-
cise location before the operation begins. The surgeon
controls the da Vinci System through a console a few
feet away from the operating table. The Xi System's im-
mersive 3D‑HD vision system provides surgeons a highly
magnified view, 10 times that of the naked eye, virtually
extending their eyes and hands into the patient.
EXCITING ADDITION
Currently, several of Shannon's sur-
geons are utilizing the da Vinci for gallbladder removal,
hernia repair, colectomy and OB-GYN surgeries.
"We do complicated gallbladder procedures often," says
Emmette "Buddy" Flynn, MD, Shannon General Surgeon.
"We have moved from a time when we had great vision
with open procedures, because we had a long incision.
Then we converted to laparoscopy and lost the 3-D vision
for 2-D. Now, in robotic surgery we have the 3-D vision
back along with better digitalization, magnified vision
and the wristed-articulated instruments. The articulated
instruments function like a human wrist, with seven
planes of movement. All of this combined really helps
minimize the risk to the patient."
Additional advanced features of the da Vinci Xi System
include the ability for the surgeons to feed their patient's
imaging results into the console and Firefly Fluorescence
Imaging.
"The use of Firefly allows us to evaluate major
ductal areas, vessels and blood flow in real time," says
Dr. Flynn.
Firefly allows the surgeons to switch from standard to
near-infrared vision with the use of an injectable fluo-
rescent dye. When Firefly is switched on, the surgeon
sees the areas with blood flow as green and the areas
without as gray.
"The da Vinci Xi Surgical System is an exciting ad-
dition to our surgical program," Rae says. "It's an added
benefit not only to our team and our hospital, but more
importantly, to our patients."
Surgeons benefit from enhanced vision and mechan-
ics while using the system. The patient benefits from
smaller incisions, which lead to a shorter hospital stay,
quicker recovery, minimal scarring and less risk of
complications.
The da Vinci Xi System is an expandable technology
platform that is designed to accommodate and seamlessly
integrate a range of current technologies, as well as future
innovations, in areas such as imaging, advanced instru-
ments and anatomical access.
For more information on minimally invasive
surgical options at Shannon, call
325-653-6741
or visit
www.shannonhealth.com
.
NINE SHANNON PHYSICIANS
volunteer their time
and medical skills to support local law enforcement as
part of a Tactical Medicine Program. The program began
out of respect and gratitude for our local law enforce-
ment agencies.
James Vretis, DO, Shannon Emergency Medicine, laid
the groundwork for the Tactical Medicine Program. He
began volunteering with the Tom Green County Sheriff 's
Office and San Angelo Police Department SWAT Team in
2015. He gained experience in the field during his time in
Jacksonville, Florida. Channeling his passion to provide
support for law enforcement, he gained the support of
additional Shannon physicians.
Since that time, the program has grown to provide
services for various local agencies, such as the DEA,
DPS and sheriffs' departments in surrounding counties,
including Irion and Sterling.
The nine physicians who volunteer in the Tactical
Medicine Program practice general surgery, emergency
medicine, anesthesia and family medicine. They take call
24/7 from the agencies requesting a tactical medicine
physician.
"They will call us out if they feel the situation needs
our medical support," says Dr. Vretis. "However, we are
not just there to render aid to law enforcement in the
event of an injury. For every officer-involved shooting
that is ruled justified, within five years, the majority of
those officers succumb to alcohol or drug addiction and
80 percent are no longer on the force. Therefore, for every
'bad guy' we save, we are also saving a good guy."
In addition to providing support in the field, education
and training are a large part of the program. Basic lifesav-
ing techniques are often the focus of training. Recently, the
Tactical Medicine Program provided tourniquet training
for the Sheriff 's Department.
"The least we can do is be there for these men and
women when they need us the most," says Ben Brown,
MD, Shannon General Surgeon, Trauma Program Di-
rector and Tactical Medicine Program Director. "It's
an honor to help protect those who risk so much to
protect us."
VISION AND DEXTERITY: The da Vinci®Xi Surgical System
allows for 10 times the magnification during surgery,
and the surgeon is 100 percent in control of the robotic
system. The wristed-articulated instruments function
like a human wrist and have seven planes of movement.
SAFER TOGETHER: Shannon Surgeon Ben Brown, MD,
(right) and Emergency Department Physician James
Vretis, DO, (left) recently conducted training with
Sheriff David Jones (center) and members of the Tom
Green County Sheriff's Department.
We l l n e s s
TACTICAL
MEDICINE
PROGRAM
Providing support and education
for local law enforcement
W I N T E R 2 0 1 7
7
H E A L T H
B E A T