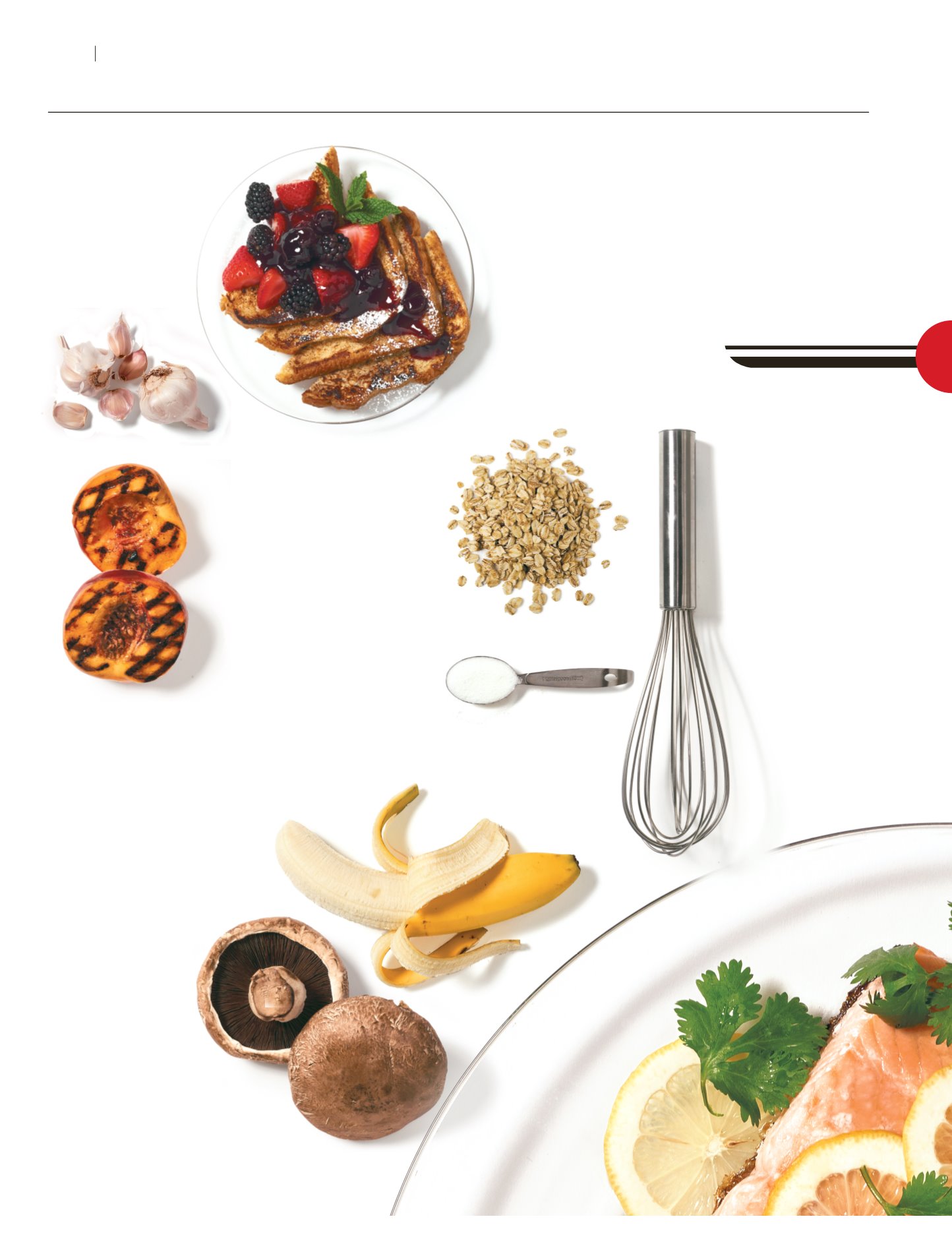 Eight
SevenSix
Five
Four
Two Three
One
F e a
COO
TIPS
&
HEALTH
F
i
F
You know this: A healthy diet c
family's too. But knowing somet
two entirely different things.
✦
the table, you may want to che
pages. Each one is a no-fuss w
better—without sacrificing tast
everybody from serious health
cer and diabetes.
✦
Here's your
GET SAUCY WITH
SOME FRUIT.
Puree apples, berries,
peaches or pears in
a blender for a thick,
sweet and nutrient-rich
sauce. For breakfast,
pair it with French toast,
pancakes or waffles.
For dinner, drizzle it on
grilled or broiled fish
or poultry. Craving des-
sert? Spoon it on angel
food cake.
MAKE OVER QUICK BREADS
AND MUFFINS.
Cut back on calories and saturated fat by
substituting three ripe, well-mashed bananas
for ½ cup butter, lard, shortening or oil in a
recipe. Or try this swap: Replace 1 cup of
any of these fats with 1 cup of applesauce.
LET GARLIC SIT A SPELL.
After crushing or chopping
raw garlic, let it sit for
10 or 15 minutes, rather
than tossing it right away
into a hot pan. That extra
time triggers an enzyme
reaction that boosts the
production of allicin, a pow-
erful, health-promoting plant
chemical.
GO FOR FIBER-
FILLED FLOUR.
In dough and batter,
substitute fiber-
rich whole-wheat
flour for half of the
refined white flour.
Give oat flour a try
too—you can even
make your own. Just
whirl dry oatmeal
in a blender. Then
replace up to a third
of the white flour in
recipes with the oat
flour.
SCALE BACK ON SUGAR.
Typically, you can reduce the sugar in any recipe by a quarter, and you won't taste the difference.
Or you can switch out sugar for an equal amount of unsweetened applesauce. You can also
sweeten recipes with vanilla or peppermint extracts or spices, such as cinnamon or allspice.
KEEP COOKOUTS LEAN.
Please a crowd with turkey
burgers. Make them from
ground turkey breast (it can
be as lean as 99 percent fat-
free) seasoned with cilantro,
shallots or chili sauce. For
variety, pass out grilled porto-
bello mushrooms flavored by
a low-fat marinade.
SATISFY EVERYBODY'S
SWEET TOOTH WITH
FRUITY DESSERTS.
Grill bananas, pineapple
slices or peach halves until
the fruit is hot and slightly
golden. Grill watermelon
too, but just for 30 seconds
on each side. Or enjoy this
banana split twist: Top a
banana with frozen low-fat
strawberry and vanilla yogurt
and a sprinkle of low-fat
granola. Another possibil-
ity: End meals with baked
apples or pears.
Check out our libra
recipes. Go to ww
healt
TOP IT SMART.
Instead of whipping
heavy cream to top a
dessert, whip chilled,
fat-free evaporated
milk with just a touch
of added sugar. Frost
cakes lightly—or bet-
ter yet, skip frosting
entirely. Top cake with
a dusting of powdered
sugar or fresh strawber-
ries or sliced peaches.
4
W I N T E R 2 0 1 7
H E A L T H
B E A T
80