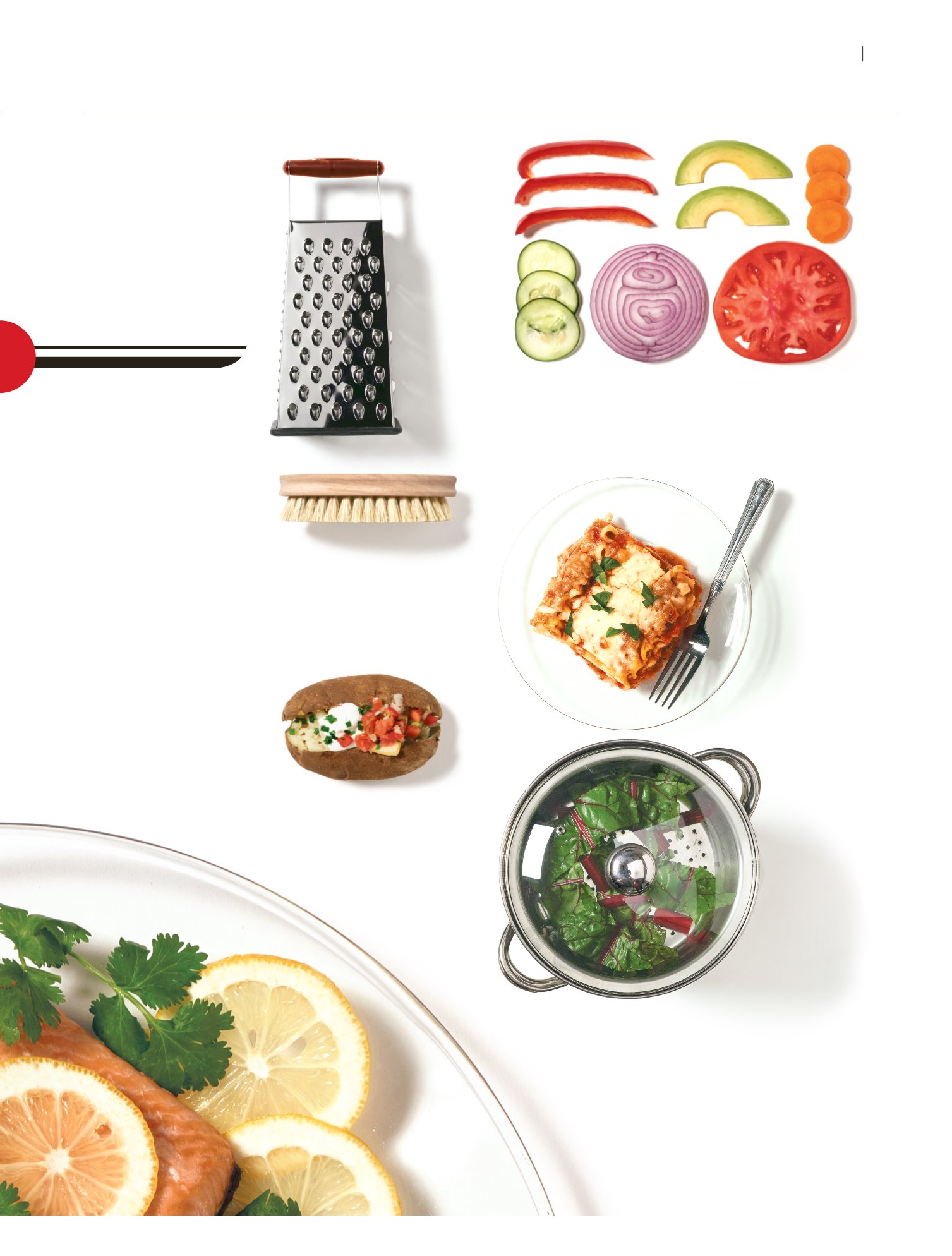 Nine
u r e
ING
RICKS
EATING
t
e
e
n
R
uld add years to your life and your
ing—and actually acting on it—are
o before you put your next meal on
k out the cooking tips on these two
y to help you and your family eat
. And together, they can help protect
roblems, from heart disease to can-
recipe for better health.
FOOL YOUR EYES.
Puree cooked orange
veggies, such as carrots,
sweet potatoes and but-
ternut squash. Then add
them to cheesy dishes,
such as mac and cheese,
lasagna, and baked enchi-
ladas. Since cheeses and
the pureed veggies blend
well, you can use less
cheese, which tends to be
high in saturated fat and
sodium.
TRY SOME-
THING GRATE.
Sneak more pro-
duce into your fam-
ily's diet by adding
grated or chopped
fruits or veggies to
your favorite foods.
A few ideas: Try
shredded carrots
in muffins or meat-
loaf, grated apples
in pancakes, or
grated or chopped
zucchini or spin-
ach in lasagna
and other pasta
dishes.
SAVE GOOD-FOR-YOU
NUTRIENTS.
Some minerals and vita-
mins dissolve in cooking
water. So steam veg-
etables in a microwave or
vegetable steamer. That
way, veggies and cook-
ing liquids usually stay
separate. And resist the
urge to rinse rice before
cooking—that can wash
nutrients straight down
the drain.
CREATE A RAINBOW.
Choose produce of different hues to increase the variety of nutrients, minerals and
phytochemicals—disease-fighting plant chemicals—in your diet. Tuck spinach leaves
and sliced red pepper and avocado into sandwiches. Add sliced beets, dried cranber-
ries, orange segments or sweet peas to salads. And top pizzas with colorful veggies.
PLAN A POTATO BAR.
Turn kids into veggie fans with a serve-yourself
spread of baked potatoes and toppings. Among
the options: chives, scallions, steamed broccoli,
chopped tomato, salsa, diced avocado, low-fat
shredded cheese and low-fat Greek yogurt.
DON'T THROW AWAY A GOOD THING.
Scrub—rather than peel—edible skin on pro-
duce such as carrots, potatoes and pears. It's
a rich source of vitamins, minerals and fiber.
Consider: A medium baked potato with the skin
on has twice the fiber of one without it—about
5 grams compared to 2.5.
y of nutritious and tasty
.shannonhealth.com/
yrecipes.
Ten
El ven
Thirteen
Fourteen
Fifteen
Twelve
KEEP FISH HEART-HEALTHY.
Fish such as salmon, albacore tuna and lake trout are rich in omega-3 fatty acids,
which help reduce heart disease risk. But rather than smother fish in a creamy sauce,
bake it with a splash of reduced-fat salad dressing, tomatoes and fresh herbs. Like-
wise, instead of deep-frying fish, oven-fry it. Dip it first in egg whites, then coat it in
breadcrumbs and bake.
Sources: Academy of Nutrition and Dietetics; American Heart Association; Fruits & Veggies—More Matters; U.S. Department
of Agriculture
W I N T E R 2 0 1 7
5
H E A L T H
B E A T