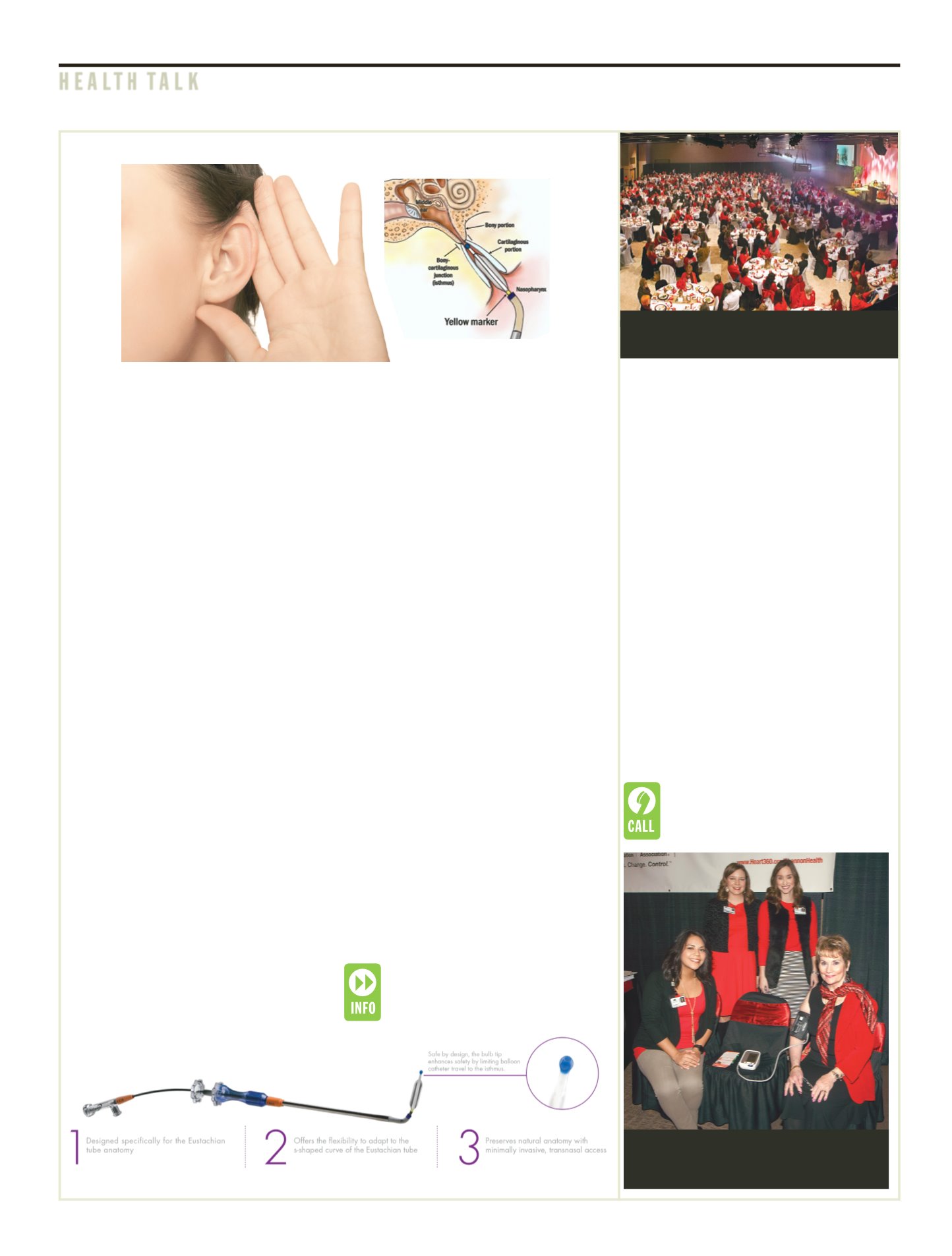 Relief for ear pressure
Shannon brings new Eustachian tube procedure to West Texas
Everyone has most likely experienced the
sensation of pressure in their ears. Many
people are familiar with this feeling as a
symptom of sinus or allergy problems. If you
have ever flown on an airplane, your ears may
have had trouble equalizing during takeoff
and landing. You might feel as if you're in a
barrel and everything you hear is muffled.
This feeling causes mild discomfort, but
normally goes away within a few minutes.
But some people are never able to find relief.
A new procedure, Acclarent Aera™ eusta-
chian tube balloon dilation, is now available
at Shannon Clinic to help patients who have
problems with ear pressurization.
The eustachian tubes, which connect the
inner ear to the back of the throat behind the
nasal passages, are responsible for ventilation
and equalization of pressure on each side of
the eardrum. The tubes also drain fluids and
debris from the middle ear. Inflammation
and mucus buildup can cause blockage and
obstruct proper drainage, causing fluid to
accumulate in the middle ear.
"This is a constant problem for some
people, especially those in our area who
experience sinus and allergy issues," says
David Huchton, MD, Shannon Clinic ENT.
"We can control their other symptoms really
well. We can fix the sinuses by opening them
with balloon sinuplasty, and allergies can
be controlled with shots, but there are still
problems with the eustachian tubes, and they
feel like their ears will never pop. Others also
experience excruciating pain during activities
that place strain on the tubes, such as flying.
The pressure can cause the eardrum to burst."
In children, eustachian tube issues are
often corrected on the outside of the ear with
the placement of ear tubes. This option is
available for adults, but only 50 percent see
improvement in their symptoms.
The eustachian tube balloon dilation
procedure allows the tubes to be opened up
from the inside. During the procedure, which
is performed in the office setting, an endo-
scope is inserted through the nose into the
tube opening. A curved catheter guides the
balloon into the tube. A safety mechanism
keeps the device from traveling into the ear-
drum. The balloon is inflated and the tube
is held open for three minutes. This pushes
the cartilage open and causes tiny fractures
in the surrounding cartilage and small bones
in the area. This process forces the tube to
remodel into an open position rather than
reverting to closed.
The eustachian tube procedure will be of-
fered in conjunction with balloon sinuplasty, a
similar procedure which opens the sinus pas-
sages via a balloon catheter, for patients who
experience chronic ear pressure along with
their sinus symptoms. These two procedures
combined take only half an hour to complete.
"Eustachian tube relief has been a subject
of research for decades," says Dr. Huchton.
"This new procedure changes the game for
patients who have not responded to other
medical therapies. We are proud to be the
first to offer this procedure in West Texas to
provide relief and quality of life for patients
who suffer from this chronic issue."
For more information about
eustachian tube balloon dilation,
please call
325-481-2283
or visit
www.shannonhealth.com
.
Go Red ForWomen
Misconceptions about heart disease and women could
be putting you at risk. Heart disease is the No. 1 killer of
women, claiming one life per minute.
Go Red For Women is a national initiative aimed at
uniting women and their friends in the fight against heart
disease. Women are becoming better educated and learn-
ing the facts about how heart disease affects women and
men differently and how to take steps to address their risk
for a heart attack. Continued education and awareness is
crucial for women to fight this deadly disease.
Please join us for the 2017
Go Red For Women Luncheon
Wednesday, Feb. 1
10:30 a.m. to 1 p.m.
McNease Convention Center
Comedienne Kat Simmons will provide the keynote
address. The event will also include a silent auction and
exhibit booths.
This is the 11th year Shannon has sponsored the lun-
cheon. Reserved tables are $1,000 and individual tickets
are $50 each, and they will be available through the end
of January. To purchase tickets or for more information,
please call
325-481-6300
. All proceeds from the
luncheon help advance educational outreach
and research programs of the American Heart
Association.
BE SCREENED: Free blood pressure checks are just
one of the many features at the upcoming Go Red
For Women event on Feb. 1.
Photo courtesy of Jim Bean Photography.
W I N T E R 2 0 1 7
H E A L T H B E A T
3
N E W S , V I E W S & T I P S
H E A L T H T A L K
WEARING RED: More than 500 people attended last
year's Go Red For Women event.
Photo courtesy of Jim Bean Photography.