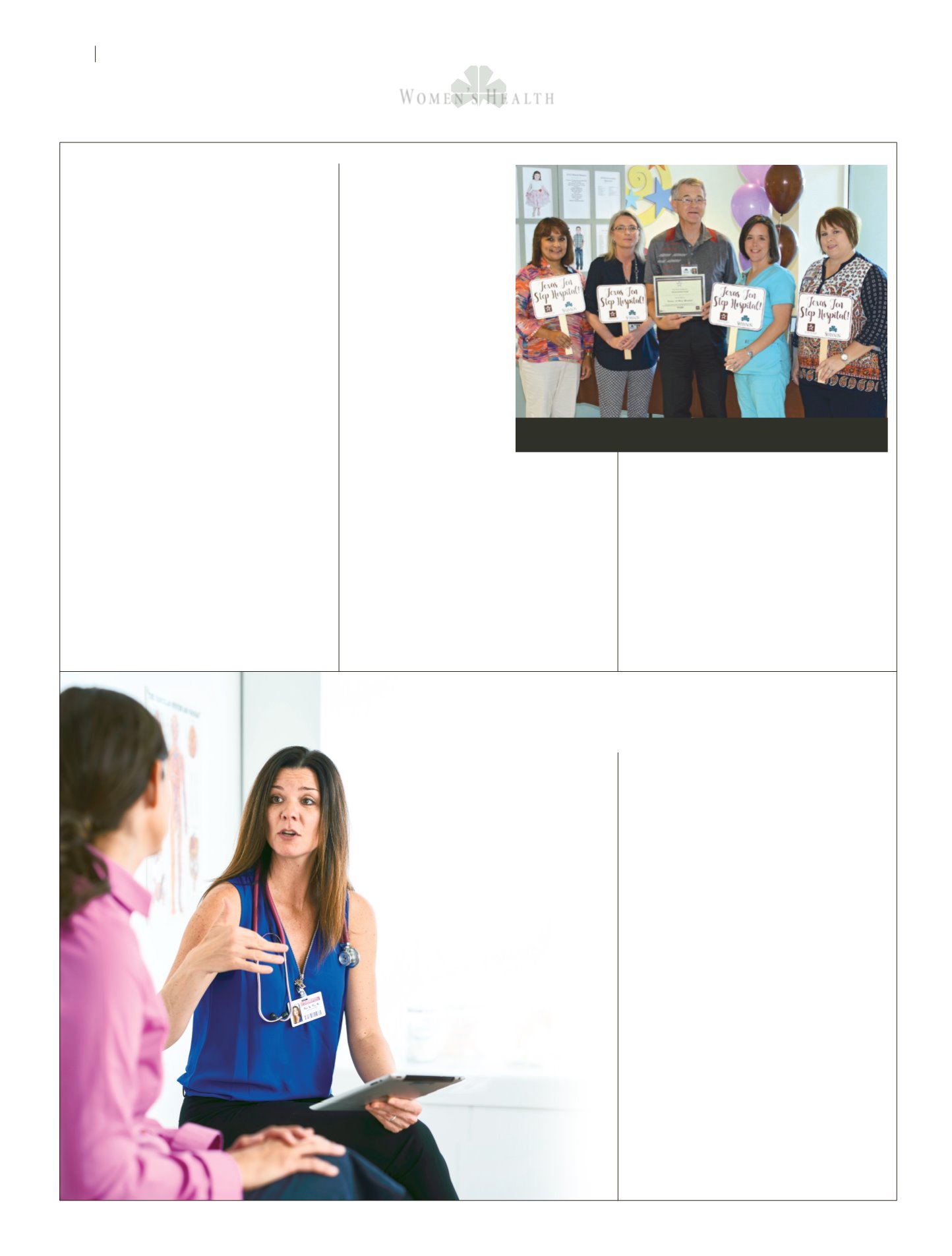 TEXAS TEN STEP
PROGRAM DESIGNATION
SUPPORT
FOR MOMS
AND BABIES
SHANNON MEDICAL CENTER
has taken a giant step
toward improving the health of newborns and infants by
earning the Texas Ten Step Program facility designation
from the Texas Department of State Health Services.
Currently, Shannon Medical Center is the only hospital
in the Concho Valley that has been designated as a Texas
Ten Step facility.
The Texas Ten Step Program encourages breastfeed-
ing as the preferred method of feeding for newborns and
infants. Shannon joins a growing number of Texas birth
facilities that are supporting new mothers and their deci-
sion to breastfeed.
"This designation is important for our breastfeeding
patients at Shannon," says Stacie Elizondo, BSN, RNC-
MNN, Administrative Director of the Shannon Women's
& Children's Hospital. "It reinforces our dedication to sup-
port them in their choice and ensures we have prepared,
well-educated staff available to assist them."
To achieve the Texas Ten Step designation, Shannon
made several process changes.
"The whole focus of Texas Ten
Step is making sure you do not
have any processes within the
hospital or clinic that are coun-
terproductive in supporting the
moms' breastfeeding efforts,"
Elizondo says. "We changed our
nursing routine right after birth
to accommodate skin-to-skin for
at least one hour, or until the
first feeding. We also changed
the nighttime nursing routine on
the Women's Health unit. Babies
were taken from the mom's room
for midnight assessments and
weights. Now the nurse's routines
all occur in the room, so mom and
baby are not separated."
Changes were also made in the
Clinic OB-GYN setting. A breast-
feeding flipbook was developed to help educate expect-
ing mothers during their OB appointments. Educational
material given to expecting mothers is also being stan-
dardized throughout the Clinic. All Women's & Children's
staff received training.
Based on the World Health Organization (WHO)/
UNICEF's Ten Steps to Successful Breastfeeding, the
Texas Ten Step program aims to assist birth facilities'
support of breastfeeding mothers before, during and
after delivery; encourages them to identify breastfeed-
ing resources for the mother after she is discharged; and
assists facilities in improving on national performance
measures such as the Centers for Disease Control and
Prevention's Breastfeeding Report Card. The goal of the
Texas Ten Step Program is to increase breastfeeding
initiation rates to 82 percent.
Texas Ten Step facilities are asked to address 85 per-
cent of the Ten Steps to Successful Breastfeeding, be
designated as a Texas Mother-Friendly Worksite, evaluate
their breastfeeding policies and maternity care practices,
and educate all health care staff routinely with evidence-
based courses.
"We worked very hard to earn the Texas Ten Step
Program designation," says Elizondo. "And we are proud
to join the other select Texas hospitals in promoting
breastfeeding to our new mothers."
THEY CAN BE
as small as an apple seed
or large enough to make a woman look
pregnant. They're fibroids—tumors that are
nearly always benign and that grow in the
wall of the uterus.
Hormones play a role in fibroids, which
grow rapidly during pregnancy when hormone
levels are high. And they stop growing—or
even shrink—once menopause starts.
Typically, fibroids are small and don't
cause any problems. In fact, many women
have them and never know it. When they're
detected, it's often by chance. Still, women
with symptoms may find that fibroids are
hard to live with. They may cause:
● 
●
Painful periods, periods so heavy they
cause anemia or bleeding between periods.
● 
●
Pain during sex.
● 
●
Pain in the lower back—often a dull,
heavy aching but sometimes sharp.
● 
●
An enlarged lower abdomen.
Check out the
many different options
we offer for women
who need a health care
provider. Go to
www.shannonhealth.com.
THE FACTS ABOUT FIBROIDS
● 
●
Frequent urination, constipation or bloating.
● 
●
Miscarriages.
Fibroids that don't cause symptoms, are small or oc-
cur when a woman is nearing menopause usually don't
need treatment. But if symptoms are disrupting your life,
treatments are available. They include:
Prescription medicine.
This can help control heavy
bleeding and painful periods. Options include low-dose
birth control pills or an IUD that releases progestin.
Endometrial ablation.
This procedure destroys the
lining of the uterus and helps control very heavy bleed-
ing. It can be done with a laser, electric current or other
methods. You should not get pregnant after having an
endometrial ablation.
Uterine artery embolization.
Here, doctors inject tiny
particles—about the size of grains of sand—into blood
vessels leading to the uterus. The particles cut off blood
flow to fibroids, causing them to shrink.
MRI-guided ultrasound therapy.
In this new approach
to treatment, doctors use MRI imaging to aim ultrasound
(sound waves) at a fibroid. The ultrasound waves heat up
and destroy the fibroid.
Surgery.
In a surgery called a myomectomy, doctors
remove fibroids but leave the uterus intact. Since you
keep your uterus, you may still be able to have children.
Alternatively, in a hysterectomy, doctors remove the
uterus and you can no longer become pregnant. A hyster-
ectomy may be necessary when other treatments haven't
worked or fibroids are very large.
TEXAS TEN STEP HOSPITAL: Shannon Associates celebrated the Texas Ten
Step Designation and all those who helped with the designation process.
Wom e n ' s H e a l t h
6
W I N T E R 2 0 1 7
H E A L T H
B E A T