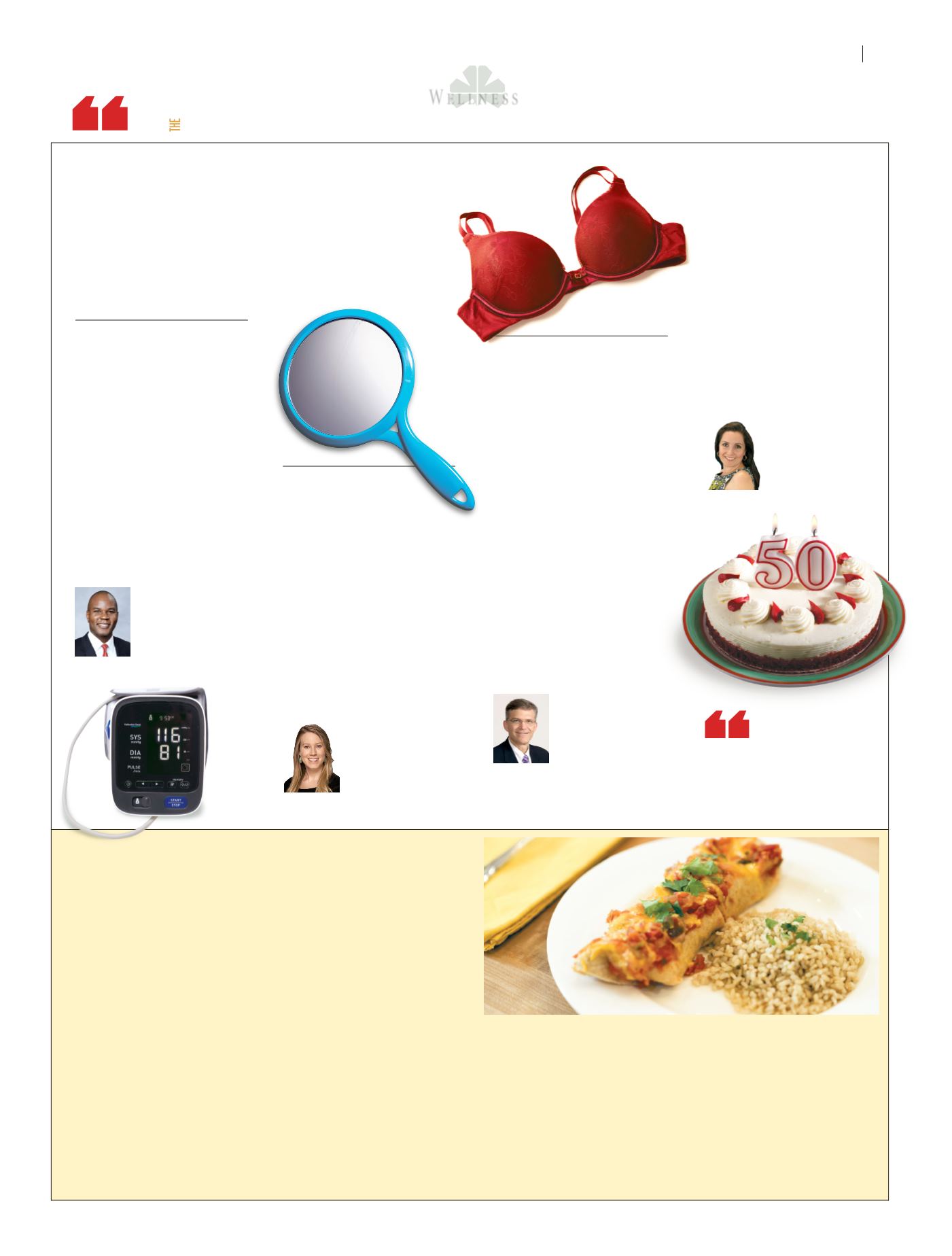 Butternut squash enchiladas with salsa
Makes 7 servings.
Ingredients
1 package (16 ounces) frozen, diced,
peeled butternut squash or 2 cups fresh
squash, seeded, peeled and diced
1 cup water
1 tablespoon olive oil
½ sweet onion, finely chopped
1 can (15.5 ounces) no-added-salt
black beans
1 teaspoon ground cumin
¾ teaspoon ground cinnamon
Salt and ground black pepper, to taste
Canola oil spray
7 large whole-wheat tortillas
(about 7 inches)
1 cup grated cheddar cheese, divided
1 cup tomato salsa
¼ cup chopped fresh cilantro leaves, for
garnish (optional)
Directions
■
■
Place squash in medium saucepan. Add
water. Cover pot tightly and place over
medium-high heat.
■
■
Cook until squash is tender but not mushy,
12 to 15 minutes, depending on size of cubes.
■
■
Drain squash and set aside.
■
■
While squash is cooking, in large skillet,
heat oil over medium-high heat.
■
■
Add onion and sauté until soft and
translucent, about 4 to 5 minutes, stirring
occasionally.
■
■
Add beans and partially mash with fork.
■
■
Mix in squash, cumin and cinnamon. Add
salt and pepper, if desired.
■
■
Remove from heat and set aside.
■
■
Preheat oven to 350 degrees.
■
■
In 9-by-13-inch baking dish, lightly coat
interior with cooking spray and set aside.
■
■
Coat tortilla on both sides with cooking
spray. Lay on plate.
■
■
Spoon ½ cup filling on tortilla and top
with 1½ tablespoons cheese.
■
■
Roll up filled tortilla and set at one end of
baking dish. Repeat, placing filled tortillas
side by side, filling baking dish tightly.
■
■
Pour salsa over assembled enchiladas.
■
■
Sprinkle remaining cheese (about ¼ cup)
over sauce. Cover pan with foil.
■
■
Bake enchiladas about 25 to 30 minutes,
until heated through.
■
■
Uncover and serve garnished with cilan-
tro, accompanied by cooked brown rice, if
desired.
Nutrition information
Serving size: 1 enchilada. Amount per
serving: 260 calories, 6g total fat (1g sat-
urated fat), 38g carbohydrates, 12g protein,
6g dietary fiber, 460mg sodium.
Source: American Institute for Cancer Research
WHAT ARE SOME
SCREENINGS WOMEN
NEED TO STAY WELL?
ASK
EXPERTS
The family physician says:
Start with getting
the basics
Your blood pressure and cholesterol
levels can greatly affect your cardio-
vascular health. If those levels are too
high, you're at risk for problems like
heart attack and stroke.
Have your blood pressure checked
at least every two years starting
at age 20, and get your cholesterol
tested every four to six years starting at
age 20. You may need these screenings
more often if your numbers are too high.
Ask your doctor what blood pressure and
cholesterol levels you should aim for.
Chris Ferguson, MD
120 E. Beauregard
325-481-2274
Need a screening
or to see a doctor? We can
help. Call our Doctor Match-
maker at 325-481-2343.
The internist says:
Get inside
information
Screenings such as colonoscopies
can catch colon cancer before it ever
begins—so don't put them off. Most
people should start getting screened
at age 50, but you may need to start
earlier if you are at high risk for the
disease.
There are several different tests to
screen for colorectal cancer—some
need to be done yearly, others every
5 or 10 years. Talk to your doctor about
which test is right for you and when to
start screening.
Caroline Ojeda, MD
120 E. Beauregard
325-481-2284
The dermatologist says:
Be savvy about
saving your skin
You can be your own first line of de-
fense against skin cancer. Do monthly
skin checks, and let your doctor know
about any changes or unusual spots
you find.
By reporting skin changes to your
doctor right away, you can help ensure
that you catch skin cancer in its earli-
est, most treatable stages. Your pri-
mary care provider or a dermatologist
can provide skin checks at a regular
checkup.
Ashley De La Cerda, MD
120 E. Beauregard
325-481-2294
The OB-GYN says:
Combat cancer
Early detection can make all the differ-
ence in successful treatment of breast
and cervical cancer—and screening
can even help prevent cervical cancer
altogether.
Pap smear screening to look for
precancerous cells or cervical cancer
should begin at age 21 and is typically
repeated every three years. HPV is the
virus that causes most cervical cancer.
Beginning at age 30, women should
have a Pap test combined with an HPV
test every five years, or they can opt to
just have a Pap test every three years.
In addition, starting at age 40, most
women should have a mammogram
every one to two years until approxi-
mately age 75. Your doctor may recom-
mend a different screening schedule
depending on your risk factors.
Robert Meyer, MD
225 E. Beauregard
325-481-2285
We l l n e s s
F A L L 2 0 1 6
5
H E A L T H
B E A T