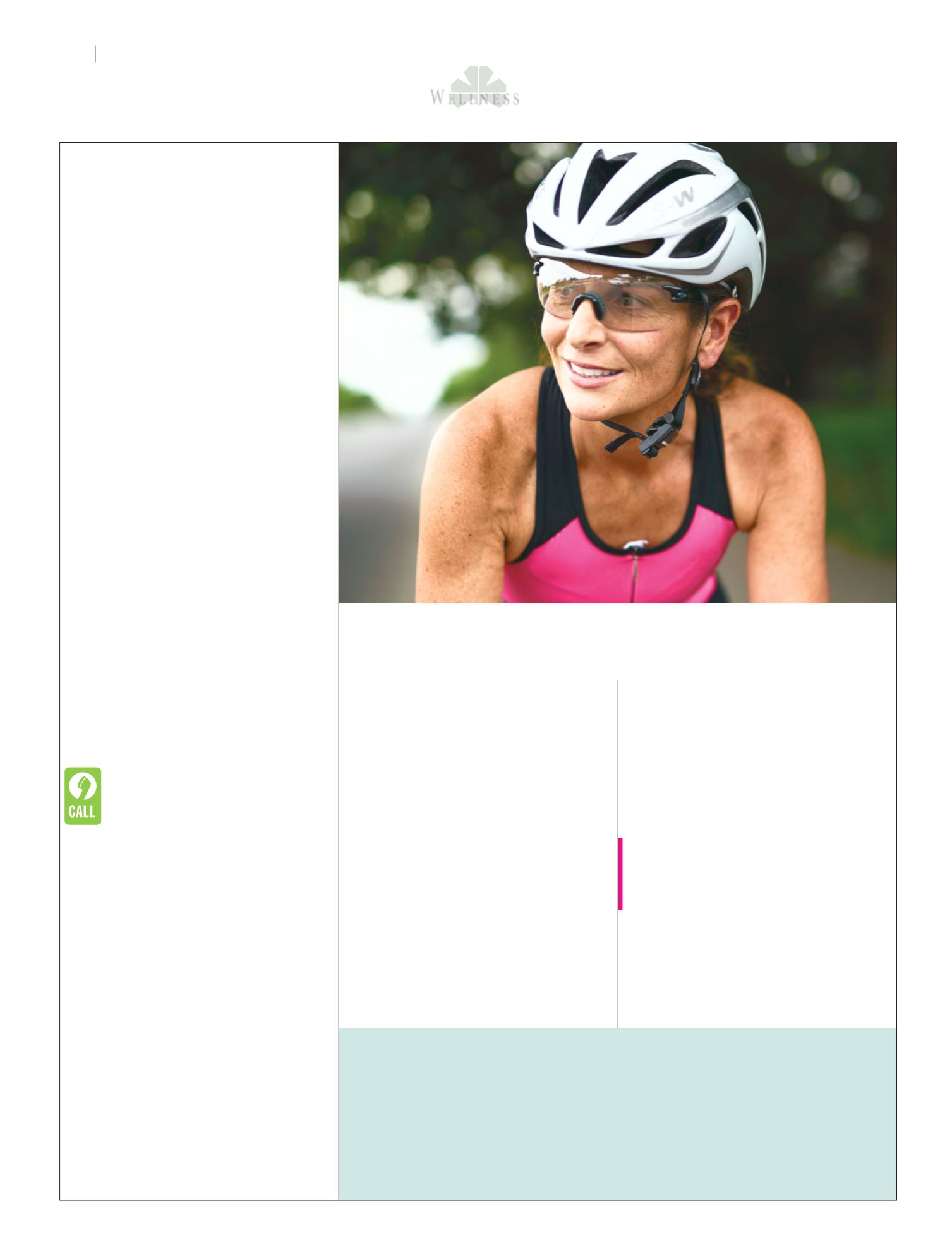 BECAUSE A
BUMP TO THE
HEAD CAN BE
SERIOUS
Shannon trains local schools on
concussion best practices
CONCUSSION
is a widespread problem in all contact
sports. The purpose of the Shannon Concussion Clinic
is to assist area schools with proper concussion care and
treatment for student athletes.
The Brain and Spine Institute at Shannon and the Shan-
non Orthopedics and Sports Medicine departments have
engaged in a universal treatment regimen for concussions
among all Shannon providers, in addition to the clinic.
Each medical professional administering concussion treat-
ment has received ImPACT (Immediate Post-Concussion
Assessment and Cognitive Testing) certification.
The ImPACT test is a neurocognitive test that mea-
sures multiple aspects of cognitive function in athletes,
including attention span, working memory, sustained and
selective attention time, response variability, nonverbal
problem solving, and reaction time. The test takes ap-
proximately 20 minutes.
At the end of the test, a baseline is reported for each
individual. When a concussion is suspected, an ImPACT-
certified medical professional administers a follow-up
test and then compares the outcome to the baseline
result. From there, a treatment plan is established on an
individualized basis. The plan is then shared with the
school district.
For information about concussion evaluation
or treatment, call the Shannon Concussion Clinic
at
325-658-5681
or
800-458-8384
.
Could it be a
concussion?
Concussion signs and symp-
toms can start right after a
blow to the head—or hours
or days later. They include:
■
■
Balance problems.
■
■
Blurry vision.
■
■
Changes in mood or
behavior—for example,
irritability.
■
■
Confusion.
■
■
Dazed appearance.
■
■
Dizziness.
■
■
Headache.
■
■
Loss of consciousness—
even briefly.
■
■
Nausea.
■
■
Problems remembering or
concentrating.
■
■
Sensitivity to light or
noise.
■
■
Slow response to
questions.
If you have any of these
signs or symptoms, stop all
activity and alert a doc-
tor right away. Athletes
shouldn't get back in the
game without a doctor's OK.
And call 911 if:
■
These
symptoms are severe or get-
ting worse.
■
One pupil is
bigger than the other.
■
The
injured person can't recog-
nize people or places, has
seizures, or keeps vomiting.
Sources: American Academy of Family
Physicians; Centers for Disease Control
and Prevention
HEADING OFF A CONCUSSION
If you suspect someone has a
concussion, bring the person to our
urgent care center or emergency
department for an evaluation.
NOW MORE THAN EVER,
concussions—and their
risks—are making headlines. You don't have to follow
football to be aware that NFL players have had life-
altering problems after repeat concussions.
But beyond headlines, how much do you really know
about concussions? There's misinformation out there—for
example, that you haven't had a concussion unless you
pass out. The reality: Most people with concussions never
lose consciousness.
This may surprise you too: Athletes and people play-
ing sports aren't the only ones at risk for concussions.
Falls are a common cause of concussions—and they can
happen to everybody, from toddlers on playgrounds to
older adults with balance problems. Car crashes cause
concussions too.
DAMAGED BRAIN CELLS
A concussion is a type of brain
injury that's caused by a blow to the head or hit to the
body that makes the head and brain move rapidly back
and forth. This can harm brain cells.
Most people recover completely from concussions. But
every concussion needs to be taken seriously.
Some cause lasting changes in thinking, learning and
memory. And having more than one concussion raises
the risk of long-term problems.
That's why it's crucial to take preventive steps:
Ride safe.
Even on short trips, always wear a seat
belt and keep kids safe in car seats, booster seats or seat
belts—whichever is right for their age.
Wear proper headgear.
Helmets are a must for activi-
ties like biking, playing contact sports, skiing, snowboard-
ing and using in-line skates or skateboards.
Make surroundings safe for seniors.
Remove tripping
hazards like throw rugs and clutter.
Be particular about playgrounds.
Kids should only play
on ones with shock-absorbing surfaces, such as mulch.
Sources: Centers for Disease Control and Prevention; National Institutes of Health
We l l n e s s
Know the signs
of an emergency
Being able to recognize the signs of a medical emergency—
and acting quickly—could help save someone's life.
According to the American College of Emergency Physi-
cians, signs and symptoms of a medical emergency include:
■
■
Difficulty breathing.
■
■
Chest or upper abdominal pain or pressure.
■
■
Fainting, weakness or sudden dizziness.
■
■
Changes in vision.
■
■
Confusion or other changes in mental state.
■
■
Sudden or severe pain.
■
■
Uncontrolled bleeding.
■
■
Severe or persistent vomiting or diarrhea.
■
■
Coughing up or vomiting blood.
■
■
Difficulty speaking.
■
■
Suicidal thoughts.
If you detect any of these signs or symptoms, you
need to come to the hospital right away.
If you think the condition could be life-threatening
or could get worse on the way to the hospital, call 911
immediately.
4
F A L L 2 0 1 6
H E A L T H
B E A T