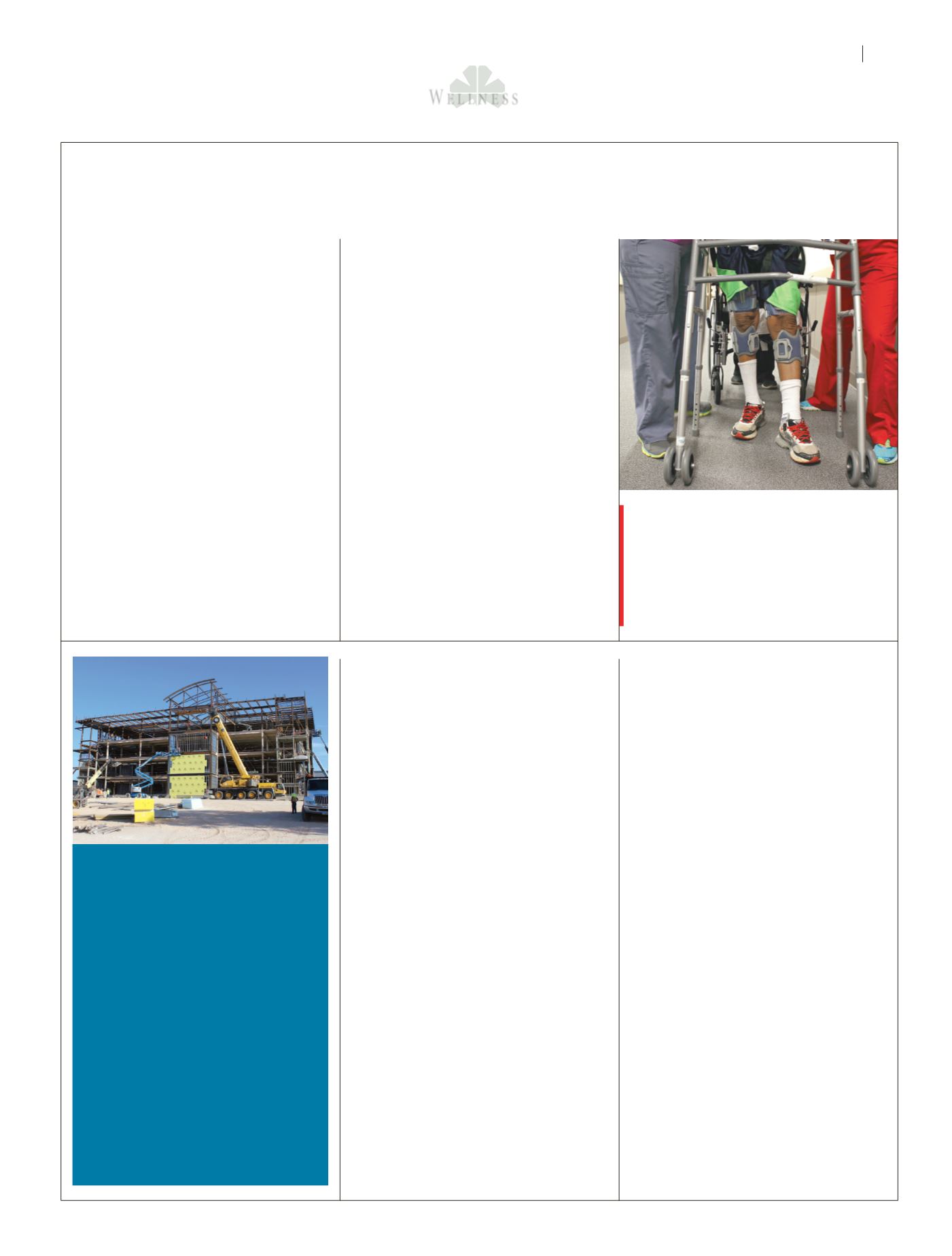 SOMETHING
EPIC IS
COMING...
Shannon's latest technology
initiative will have lasting
impact on local health care
IN 1932,
Shannon West Texas Memorial Hospital was
established, laying the foundation for a legacy of health
care for this region. During the past 84 years, Shannon
has achieved many milestones and brought increased
service and health care access to our region.
The health care industry continues to rapidly change
the traditional model of delivering care, and Shannon is
paving the way for the next generation of health care as
the region continues to expand.
We recently initiated an exciting journey, implement-
ing a single, leading-edge electronic medical record
(EMR) and financial information system for our entire
organization. After thorough research and hands-on
demonstrations, Shannon selected Epic Systems Corp., a
privately owned health care software company, to provide
the clinical, administrative and billing software. EPIC is
touted nationwide by some of the most respected health
care organizations and providers as the best of the best
in systems for managing patients' health care.
As a unified program, this system will provide integra-
tion across all access points within Shannon. Each patient
will have one comprehensive medical record shared across
all Shannon providers and facilities—from the hospital
to the clinic locations and outpatient offices. All Shannon
locations will also use the same platform for registration,
scheduling and billing.
WHAT THIS MEANS FOR YOU
The new system will in-
clude MyChart, an online portal that will give patients
more access to their health care information and a greater
ability to play an active part in managing their ongoing
health. Accessible through a mobile app or by computer,
MyChart will enable access to medical records and re-
sults, online appointment scheduling, self-check-in from
home or at on-site kiosks, communication with your
providers, prescription refill requests, and Shannon bills.
This systemwide project will affect every aspect of our
business and how we serve and care for our patients. It is
also one of the largest investments for our organization
in terms of cost and people. Shannon recently created
positions for 60 new associates who will be working with
EPIC to design and build our system as well as help train
more than 2,800 staff members to use it. Our EMR team
includes experts from all facets of our organization, in-
cluding physicians and clinical support services.
This new technology is a monumental change for our
organization, and one we believe is a necessary invest-
ment for the future of health care in the Concho Valley.
Our vision is to continue the Shannon legacy, remaining
the locally owned, trusted health care leader in West
Texas. We are grateful for the strong foundation of the last
84 years and our local leadership that has helped position
our organization to help ensure we have the capacity to
serve our community as it continues to grow.
Please stay tuned for more updates on EPIC and what
you can expect as a patient in the following months.
SHANNON OUTPATIENT NEURO THERAPY
A NEW SERVICE FOR NEURO THERAPY
THE SHANNON
Inpatient
Rehabilitation Unit has a
long-standing reputation of providing exceptional ser-
vices to patients recovering from an array of neurological
conditions and disorders by using a multidisciplinary
team approach. Shannon Outpatient Neuro Therapy is
an extension of the same quality and team approach to
patient care, provided on an outpatient basis.
"We are excited to be able to continue to serve our com-
munity and those in the surrounding area by providing
these outpatient therapy services," says Diana Moreland,
PT, DPT, Clinical Coordinator for Shannon Outpatient
Neuro Therapy. "Restoring mobility and communication
is a vital component of the journey for improving each
of our patients' quality of life."
A service of Shannon Medical Center, the Outpatient
Neuro Therapy team consists of occupational therapists,
physical therapists and speech language pathologists.
"Each therapy discipline is passionate about their com-
mitment to serving our patients," Moreland says. "We all
work together to provide an individualized plan of care for
each patient. This patient-centered, individualized care is
central to our ability to provide our patients the great expe-
rience they deserve and have come to expect at Shannon."
WHO IT HELPS
Outpatient Neuro Therapy provides a
wide range of services for patients who:
● 
●
Are amputees.
● 
●
Have issues with general balance and deconditioning,
dizziness, and/or unsteadiness with walking.
● 
●
Have MS (multiple sclerosis) and Parkinson's disease.
● 
●
Are recovering from stroke.
● 
●
Are voice therapy patients.
● 
●
Suffer from other types of neurological disorder.
Similar to the inpatient setting, specialty services are
also offered during Outpatient Neuro Therapy. One ser-
vice, Bioness, is a system that uses electrical stimulation to
address foot drop or hand paralysis due to conditions such
as: cerebral palsy, incomplete spinal cord injury, multiple
sclerosis, stroke and traumatic brain injury. Shannon is
currently the only entity within 90 miles that offers this
system for patient utilization.
SERVICES
eSwallow, another specialty service, uses
electrical stimulation to address dysphagia—difficulty
or discomfort in swallowing, due to conditions such as
stroke and other neurological disorders.
LSVT BIG, a program designed for Parkinson's pa-
tients, is an amplitude-based exercise program for the
limb motor system and re-education of the sensorimotor
system. LSVT BIG therapy applies intense, repetitious
therapy focused on core movements used throughout a
patient's daily routine.
Outpatient Neuro Therapy
accepts patients through provider referrals.
Shannon Outpatient Neuro Therapy is
located at the Shannon St. John's Campus,
2022 Pulliam. Services are offered Monday
through Friday, from 8 a.m. to 5 p.m. For
more information, please call
325-659-7132
.
Expansion updates:
Downtown medical
office building
The largest of the expansion projects announced by
Shannon in the fall of 2014 is the four-story medical
office building project located downtown on Harris
Street beside Shannon Medical Center.
It will include 80,000 square feet of space
along with a new parking lot on the north side of
the building. The first floor will include nephrology,
infectious disease, and ancillary services, such as
lab and radiology. The second floor will be home to
all of Shannon's OB-GYN providers. The third floor
will consist of Family Practice providers, and the
fourth floor will be home to dermatology, Mohs
surgery and pathology.
The project is in progress with completion ex-
pected in early 2017. Stay tuned for more informa-
tion about a grand opening celebration.
We l l n e s s
F A L L 2 0 1 6
3
H E A L T H
B E A T