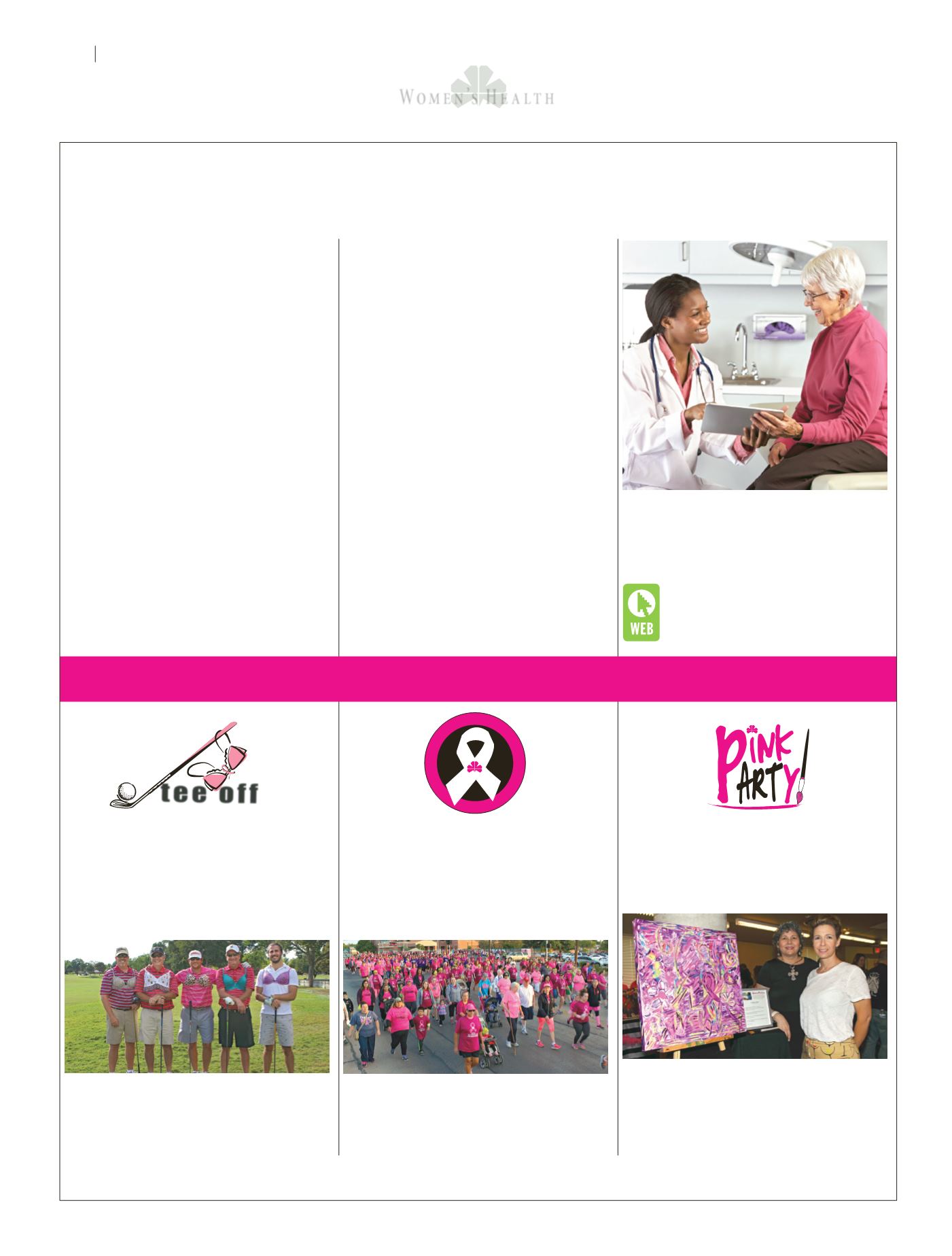 CONVENIENT TREATMENT UNDER ONE ROOF
3-D mammograms offered at Shannon Women's Imaging Center
MAMMOGRAMS
are an extremely important compo-
nent of early detection for breast cancer. Advancements
in research and technology continue to improve this
essential screening tool. The latest improvement, 3-D
mammography, is now available in West Texas at the
Shannon Women's Imaging Center.
Digital breast tomosynthesis, or 3-D mammography,
uses the same x-ray technology as traditional, or 2-D,
mammography. A two-dimensional image is captured
with traditional mammography. Three-dimensional im-
ages allow the breast tissue to be viewed in thin layers, or
"slices."The layers allowminiscule details to be more read-
ily exposed instead of possibly being hidden by overlapping
breast tissue, particularly in patients with dense breasts.
PROOF IT'S BETTER
Numerous research studies have
found an increase in earlier detection of breast cancers
when these two screenings methods are combined.
"Traditional mammography is still one of the best
screening tools available," says Michelle Snuggs, MD, Chief
Radiologist at the Shannon Women's Imaging Center.
"Combining these screening methods increases the ac-
curacy of detection, which decreases the number of call-
back appointments for additional screening. This spares
our patients the inconvenience, and most importantly
the anxiety, of coming back for another appointment."
Patients will not notice a difference in the screening
process. The same amount of compression is applied and
a very low dose of radiation is used during the exam.
Images are taken at varying angles, and it only takes the
machine a few seconds longer to capture each image.
YOU WANT TO KNOW
When breast cancer is suspected,
you and your health care team want to know the results
quickly so a treatment plan can be put in motion. Early
diagnosis leads to earlier treatment and a greater chance
for a full recovery. The five-year relative survival rate for
women diagnosed with localized breast cancer—cancer
that has not spread to lymph nodes or outside the breast—
is 98.5 percent. Convenience of imaging services and a
highly trained staff is also a vital part of this process.
The Shannon Women's Imaging Center houses state-
of-the-art mammography, ultrasound, bone density, ste-
reotactic breast biopsy and MRI equipment. Everything
you need for breast care is under one roof.
"We are committed to continuing to deliver advanced
breast care to the women of our community," Dr. Snuggs
says. "We want women to seek comfort in the fact that
technology and training combine to help us detect breast
cancers when they are present—early detection can often
mean complete recovery."
Current guidelines recommend screening mam-
mograms and physical breast examinations every
year beginning at age 40. Along with scheduling a
regular mammogram, please remember the importance of
monthly breast self-examination. Most importantly, if you
have any concerns, inform your physician immediately.
Early detection is the best protection against breast cancer.
For more information about breast cancer, please
visit the online health library at
www.shannon
health.com
. To schedule your mammogram,
call the Shannon Women's Imaging Center
at
325-481-2339
.
3rd Annual Shannon pink pARTy!
Thursday, Oct. 20
San Angelo Museum of Fine Arts
1 Love St.
5 to 8 p.m.
Enjoy drinks and hors d'oeuvres, and learn about breast
cancer prevention, detection and awareness from Shannon
personnel. Browse art pieces created by breast cancer
survivors, and enjoy fun activities. This event is free and open
to the public.
5th Tee Off for Ta-Tas Golf Tournament
Monday, Sept. 19
Brentwood Country Club
2111 Club House Lane
Four-person scramble; $125 per player
Registration and lunch: 11:30 a.m.
Shotgun start: 1 p.m.
Tee off for a great cause! Proceeds from this tournament
benefit patient programs at the Shannon Oncology
Center and Cancer Empowerment & Resource Center at
Shannon. For more information, please call 325-657-8343.
8th Annual Shannon Pink Ribbon Run
Saturday, Oct. 1
Shannon Women's & Children's Hospital
201 E. Harris
Registration: 7 a.m.
1-mile walk: 8 a.m.
5K and 10K: 8:30 a.m.
The Pink Ribbon Run is a fun family event. Deck out in pink,
sign up a team and compete for the Team Spirit trophy. The
first 800 registrants will receive a Shannon Pink Ribbon Run
T-shirt. For more information, please call 325-657-5064.
For more information about these and other upcoming events, please visit
www.shannonhealth.com
.
tee o f f
FOR TA-TAS
S
H
A
N
N
O
N
P
I
N
K
R
I
B
B
O
N
R
U
N
2
0
1
6
SAVE THE DATE for these fall events:
The purpose of these events is to provide education to our community for the detection and prevention
of breast cancer. All proceeds stay local to help women battle this all-too-common disease.
Wom e n ' s H e a l t h
2
F A L L 2 0 1 6
H E A L T H
B E A T