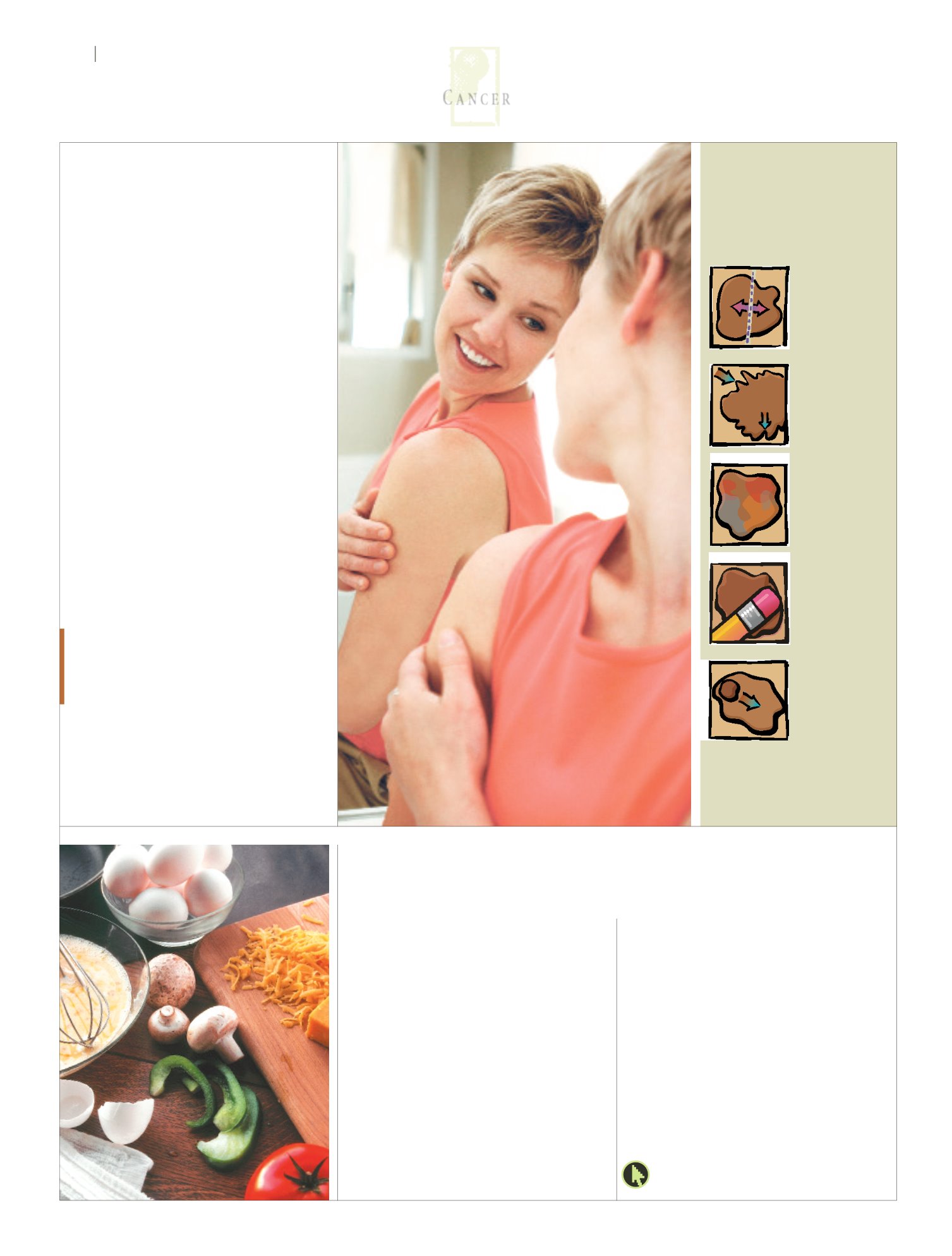 such as radiation and chemo-
therapy are vital tools in treating cancer. But they can
also take a toll on your body.
Eating right, however, can help you withstand both
the cancer and your treatments by enabling your body
to ght infection and rebuild healthy tissue, reports the
American Cancer Society (ACS).
Treatments may also be more e ective if you are
Even so, you simply may not feel like eating. Foods may
not taste the same to you. Or it might be di cult to eat
because of a sore mouth or throat, nausea, or vomiting.
ese tips from the ACS may help:
Let your doctor know if you are having trouble eating
or keeping food down. A variety of medications can help
combat these and other treatment-related side e ects.
Talk to a dietitian about a food plan and recipes tai-
lored to your speci c needs.
Focus on protein-rich foods and eating extra calories—
your body will need plenty of both. Try milk, cream,
eggs, pudding, peanut butter, cheese, oil and butter. (Diet
recommendations for cancer patients are o en di erent
from the usual suggestions for healthy eating.)
Stock up on your favorite foods, and include foods
you know you can eat when you are sick. Cook larger
amounts ahead of time and freeze in meal-size portions.
Eat small, nutritious snacks throughout the day. But
avoid snacks that may make treatment-related side
e ects worse. For instance, if you have a dry throat, don't
eat acidic foods or dry, coarse snacks.
Try to drink most of your uids throughout the day
instead of with meals. Otherwise, you may feel too full.
Finally, ask for help. Talk to friends and family mem-
bers about how they can help with shopping and cooking.
To learn about our cancer care services, go to
Check your skin for signs of cancer
on your part could make a
big di erence when it comes to the threat of skin cancer.
When it's found before it has a chance to spread, skin
cancer can be relatively easy to treat.
at's why checking your skin routinely—once a
month is recommended—is such an important health
habit. Knowing the pattern of your moles, blemishes,
freckles or other marks on your skin can help you read-
And by reporting those changes to your doctor right
away, you can help ensure that you catch cancer in its
earliest, most treatable stages. at's especially key with
melanoma—a particularly dangerous form of skin cancer
that can invade nearby tissues and spread to other parts
of the body, such as the lungs, liver or brain.
Watch for anything that's new or
changing, such as a new mole or blemish or a change in
the size, shape, or color of a skin spot or mole, reports
the American Cancer Society.
Also be alert to any mole that is painful or that starts
Examine your entire body, from head to toe and front
to back, in a well-lit room and in front of a full-length
mirror. Use a hand-held mirror to view areas that are
hard to see, such as your scalp or the backs of your thighs.
If you do nd something that's suspicious, play it safe
and have your doctor take a look.
Skin cancer is most treatable
when it is found early. To make
an appointment to have your skin
Be sure to talk to your doctor right
away if you think you have a suspicious-
Sources: American Academy of Dermatology; National
When checking a mole, remember the
ABCDE guide to the signs of melanoma.