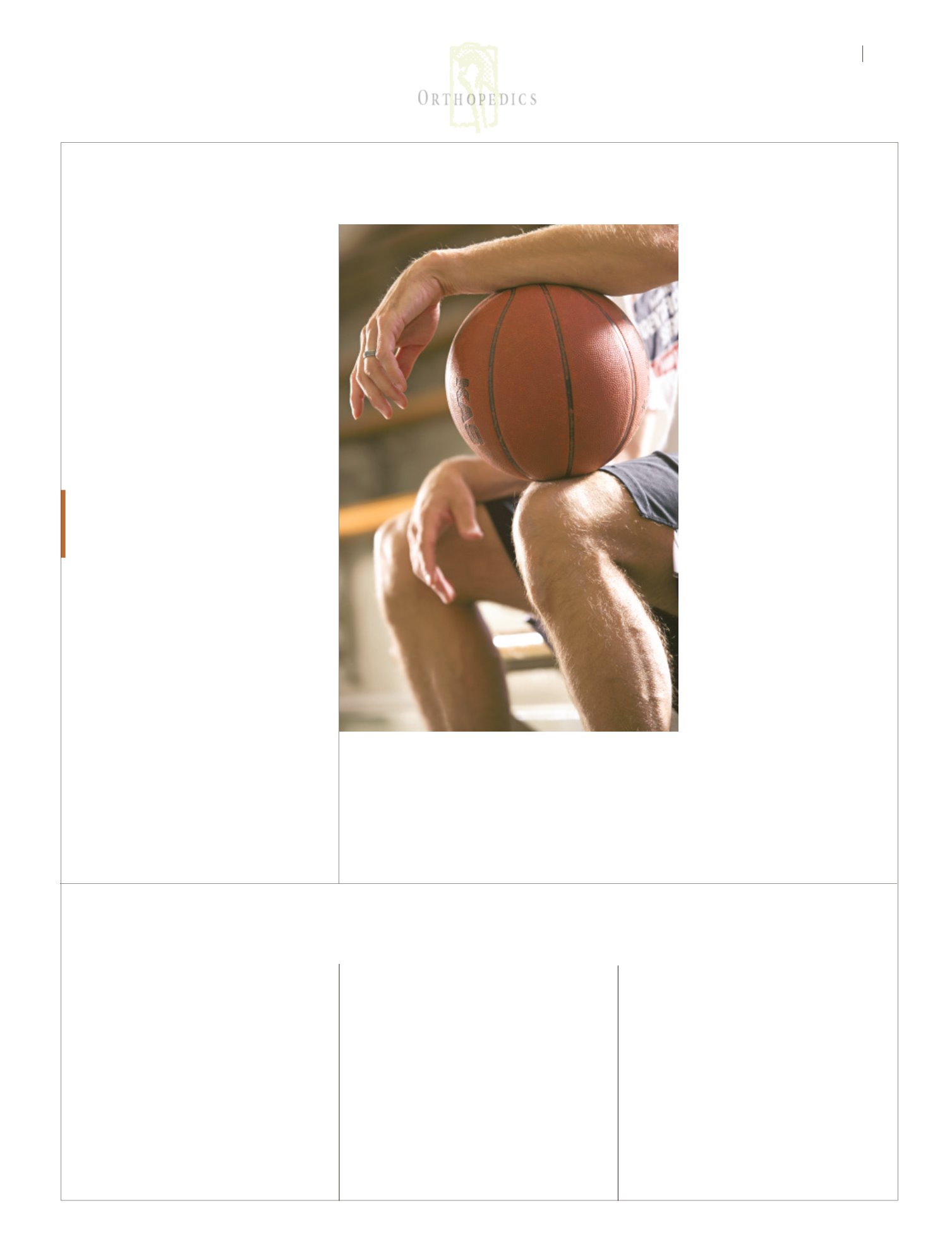 IF YOU'RE LIKE MOST ATHLETES,
competitive player or a weekend warrior type, even just
the thought of a torn anterior cruciate ligament (ACL) in
your knee might make you wince—and for good reason.
An ACL tear is o en a season-ending setback with a
long recovery. But it doesn't have to be a game changer.
Treatment can o en help you safely get your game on
Your ACL is one of four main
ligaments—tough, brous tissue—that connect the thigh
and lower leg bones. ey help stabilize your knee. Tears
to the ACL, which are one of the most common knee
injuries, usually don't involve player collisions or other
contact. ey tend to happen when an athlete suddenly
stops, twists, pivots, makes a cut or lands awkwardly
You're more likely to tear your ACL in sports such as
soccer, basketball, skiing, gymnastics, tennis or football.
And for reasons still under study, your risk is higher if
something you can ignore. You may hear a popping
sound when it happens, and your knee may feel like it's
about to buckle or give out.
Within hours, the injured knee may become swol-
len and unsteady when you walk. If you have any of those
symptoms a er an injury, see your doctor. Although the
swelling and pain may go away, you may risk more dam-
age by returning to playing sports.
Your doctor may be able to tell if you have an ACL
injury by examining your knee and asking about your
injury and symptoms. You might also need imaging tests.
O en, decisions about ACL
treatments take into account a person's activity level as
Have a painful knee? Get it
checked out by one of our orthopedic
It's a painful fact for female
athletes: Anterior cruciate
ligament (ACL) injuries of
searchers think it may have
have a larger angle where
meet at the knee. A result:
sports and a greater chance
they land from a jump. This
en's heightened risk for ACL
gen's effects on ligaments.
Sources: American Academy of
Orthopaedic Surgeons; National Institutes
BE ON GUARD AGAINST HURTING YOUR BACK
protects a quarterback. But
what about your back—who's making sure it doesn't get
You need a game plan to guard against back pain.
That's especially true if you're at high risk. Nearly
percent of adults have back problems at some point,
but you're more likely to experience back pain if you:
Don't get enough exercise.
You can take a defensive position
against back pain by sitting, standing and li ing in back-
friendly fashion. Here's how:
Be choosy about your chair.
lumbar support that will keep your back in a normal,
slightly arched position and your knees a bit higher than
your hips. Adjust the chair so that you don't need to lean
Stand with your shoulders back,
head up and spine straight, and keep your weight bal-
Get close to shelves and cupboards
before grabbing or stowing objects. Rely on your feet—
spread apart with one foot slightly forward—to stabilize
yourself. Use a stool if you're going to have to reach above
Pushing puts less strain on your back
than pulling. Use your arms and legs to propel a heavy
If you're carrying a heavy item, keep
it close to your body. Bend your knees a bit to keep bal-
anced. Use your feet to change direction, rather than
You'll keep your spine straighter
if you sleep on your side. A pillow between your knees
further reduces the strain on your back. If you must sleep
on your back, take the pressure o of it by putting a few
pillows under your knees.
Take a minute to make a plan before
li ing something heavy. Stand close to the object, with
your feet shoulder-width apart. Bend at the knees and
tighten your stomach muscles. Keep your back straight,
and use your leg muscles as you li .
Sources: American Academy of Orthopaedic Surgeons; National Institutes of Health; North
AN ACL INJURY: A KNEE IN NEED OF REPAIR
well as the injury. For example:
cises can help strengthen and stabilize the
knee and reduce the risk of new injuries.
Physical therapy alone might be an option
if, for instance, you're going to participate
in a sport, such as running or swimming,
that doesn't involve cutting or pivoting.
And an ACL can sometimes heal if it's only
Even if you plan to have surgery, physi-
cal therapy is o en still advised.
turn to a sport or a job that could involve
a lot of pivoting or other stress on your
knees, you and your doctor may consider
Typically, a torn ACL isn't stitched
together. Instead, working through small
incisions, the surgeon removes the torn
ligament and replaces it with a gra . e
gra usually comes from a piece of tendon
surgery o en takes at least six months.
e recovery period usually involves knee
rehabilitation, which includes exercises
that help people move and strengthen
their knee. Programs are tailored to each
person's needs and sometimes even to a
Sources: American Academy of Orthopaedic Surgeons; American
College of Sports Medicine