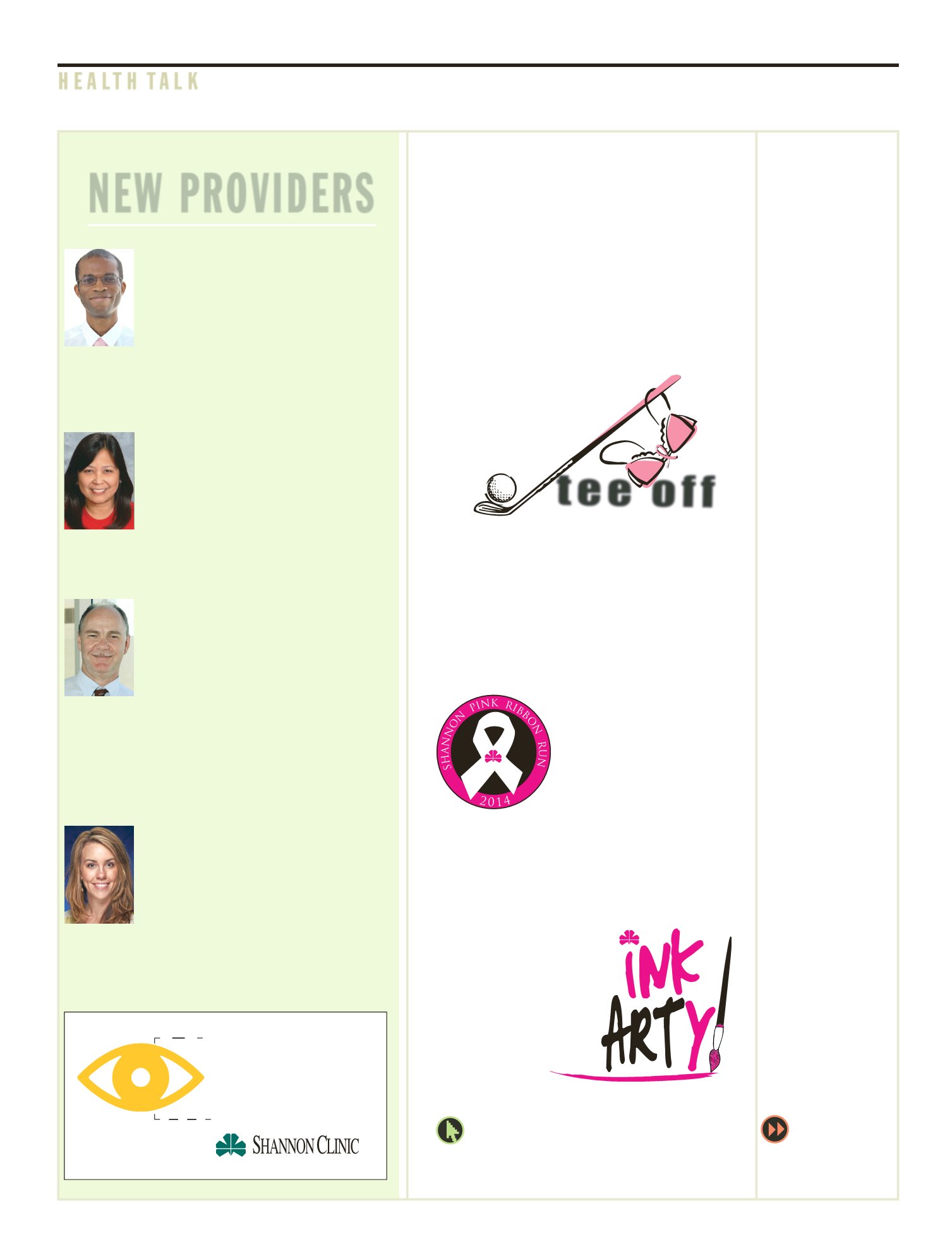 ll proceeds from Shannon's Breast Cancer Awareness
events stay local to help women in our community
combat this disease that knows no age and sees
no color. We want to celebrate survivors and their
loved ones and remember those who fought their
Please join us for these events:
Christopher Ajufo, MD, hospitalist
Dr. Ajufo earned his medical degree and completed
his internship at the University of Ibadan in Ibadan,
Nigeria. He completed his internal medicine resi-
dency at the Cleveland Clinic Foundation in Cleve-
Dr. Ajufo is board-certified in internal medicine.
He joins Shannon Clinic from Ashtabula County Medical Center, an affili-
ate of Cleveland Clinic, in Ashtabula, Ohio. As a hospitalist, he special-
izes in treating patients in the hospital setting. For more information,
Maria de Jesus, MD, neurology
Dr. de Jesus earned her bachelor's and medical de-
grees from the University of Santo Tomas in Manila,
Philippines. She then completed her internship and
residency at New York Medical College in Valhalla.
Dr. de Jesus is board-certified in neurology. She
joins Shannon Clinic from Hunt Regional Medical
Center in Greenville, Texas. She is accepting patients at her office in
the Shannon Medical Plaza, Suite 240, 102 N. Magdalen. For more
information or to make an appointment, please call
John Liming, MD, intensivist
After receiving his undergraduate degree from Ohio
State University, Dr. Liming earned his medical degree
from the Ohio State University College of Medicine in
Columbus. He completed his internship and residency
in internal medicine at the University of Cincinnati
Dr. Liming also earned a fellowship in pulmonary and critical care
medicine from the University of Cincinnati Medical Center. He is board-
certified in sleep medicine and internal medicine with subspecialties
in critical care medicine and pulmonary disease. He is a fellow of the
American College of Chest Physicians. As an intensivist, he specializes
in treating critically ill patients in the intensive care setting.
For more information, please visit
Jennifer T. Barnes, RN, MSN, FNP,
Barnes earned her registered nurse certification from
Angelo State University and her bachelor's degree in
nursing from Texas Tech University Health Science
Center in Lubbock. She then completed her master's in
nursing from Walden University.
Barnes is board-certified as a family nurse practitioner by the
American Academy of Nurse Practitioners. She joins the office of Walter
Rustmann, DO, 120 E. Beauregard, and is accepting patients. For more
information or to schedule an appointment, please call
access your medical infor-
RelayHealth. ink of it as
your next stay at Shannon
fore your visit at Shannon
Clinic, you will be asked to
provide your email address
in order to initiate access to
will receive an email from
instructions and links to
will be asked to enter your
all set to access your health
care information from any
device with wireless Inter-
account grants you conve-
nient and secured access to
your medical information,
with your provider's o ce.
available at no charge. You
will also have the ability to
tion or health information.
We will also be adding an
online bill-pay feature later
-RELAYME
- -
support@relayhealth.com
Tee off to fight breast cancer at the fourth
annual Tee Off for Ta-Tas golf tournament.
Four-person scramble: $125 per player
Registration and lunch: 11:30 a.m.
Come be a part of the fun at the seventh
annual Shannon Pink Ribbon Run!
Shannon Women's & Children's
Mix and mingle at the pink pARTy!
San Angelo Museum of Fine Arts
Enjoy drinks and hors d'oeuvres, and learn about breast
cancer prevention, detection and awareness from Shannon
lighting survivor stories.
cial women in their lives.
For more information about these and other upcom-
Call our Doctor Matchmaker at
N E W S , V I E W S & T I P S