1 / 8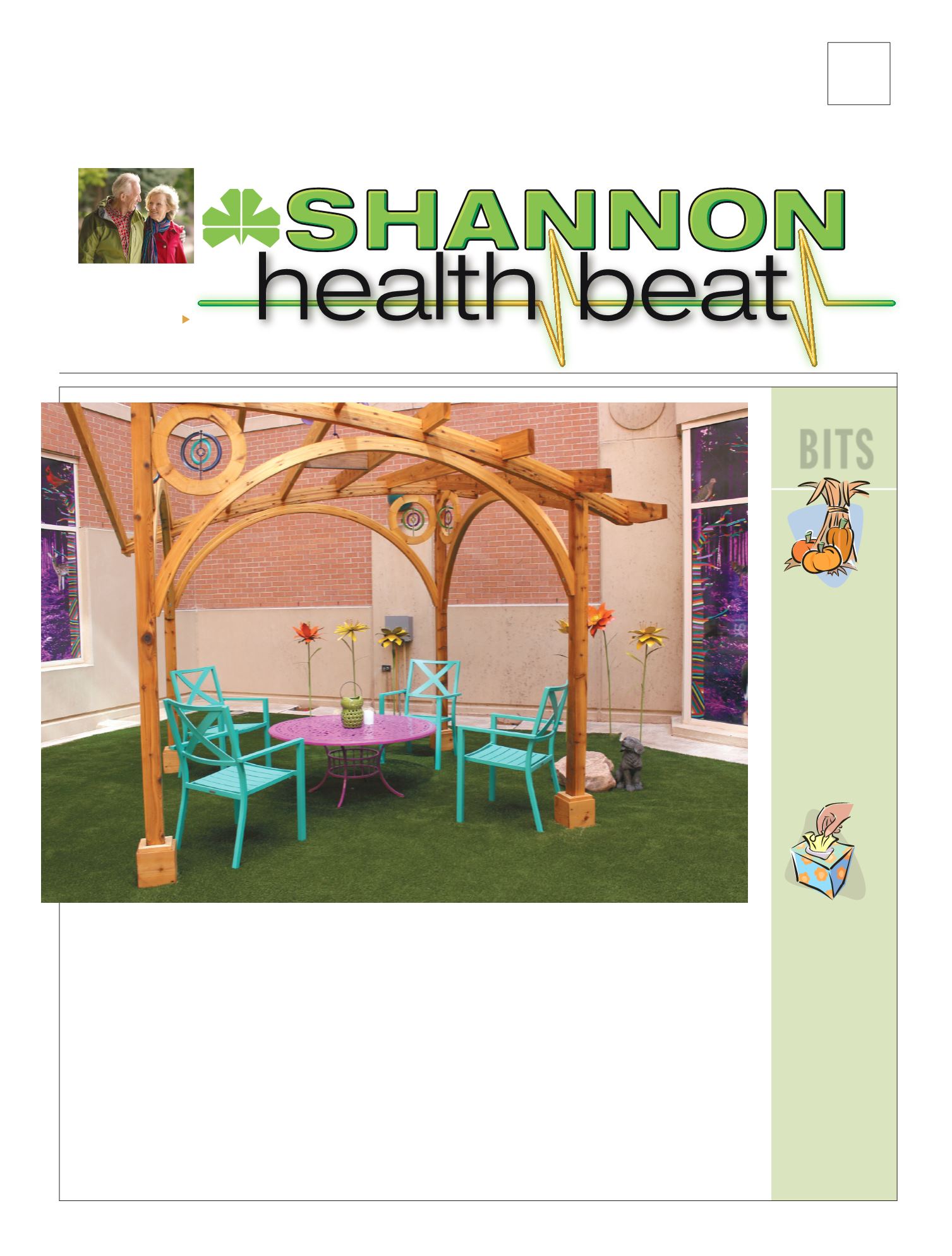 J O U R N A L O F W E L L N E S S A N D G O O D H E A L T H C A R E
●
F A L L 2 0 1 6
during his 40 years of prac-
tice, working long hours at
a time when doctors would
also make home visits. His
patients became very at-
tached to the familiar doctor,
so he extended his practice
into adult medicine.
"He met a lot of people,
and they would hug him
and carry on about him,"
his wife, Sybil Dodson,
says. "Then they'd explain,
'Oh, he was our doctor.'
He loved the children and
moms, and they loved him."
The Children's Miracle
Network at Shannon is
dedicated to providing the
best of care in a hometown
environment for pediatric
patients. The environ-
ment in which the care is
provided can enhance the
outcome and positive expe-
rience of pediatric patients.
The garden atrium at
the Women's & Children's
Hospital was in need of
an update due to age and
drought. This area was
envisioned as a place of
respite within an outdoor,
open-air environment and
also an area of safety within
the confines of the hospital.
It was in need of renewal to
achieve this vision and cre-
ate a more child-friendly
setting.
Thank you toDr. Dodson's
family; Robert Patyrak,
MD, Shannon Pediatrician;
Julie Raymond, Art in Un-
common Places; and the
contributors who made the
outdoor space possible.
Shannon Women's & Children's Hospital re-
cently dedicated the newly renovated pediatric
garden, "Into the Woods," in memory of pe-
diatrician Dr. Dwain Dodson for his lifelong
commitment to caring and compassion for the
children of the Concho Valley.
✦
Dr. Dodson
provided care for numerous pat ients
BITS
H e a lt h
TOAST—DON'T TOSS
When carving pump-
kins, save the seeds
for a savory snack.
Rinse the seeds, and
bake them on a lightly
oiled baking sheet at
325 degrees for about
30 minutes. Stir oc-
casionally while baking.
Try seasoning them
with garlic powder or
Cajun seasoning.
Academy of Nutrition and Dietetics
COMMON AND CATCHY
More than 200 viruses
can cause colds. Adults
average 2 to 4 colds a
year, while young chil-
dren catch an average
of 6 to 8.
American Lung Association
TALK THE GOOD TALK
If you tend toward
negative self-talk like "I
always mess up," try re-
framing your thoughts.
A more positive take
("This will seem funny
someday") can actually
help reduce stress.
American Heart Association
PULMONARY REHAB
Learn best ways to live
with COPD.
See page 7
Nonprofit Org.
U.S. Postage
PAID
Platteville, WI
Permit No. 7
SHANNON
MEDICAL CENTER
120 E. Harris Ave.
San Angelo, TX 76903
INTO
theWoods
Renovated pediatric garden remembers hometown pediatrician