1 / 8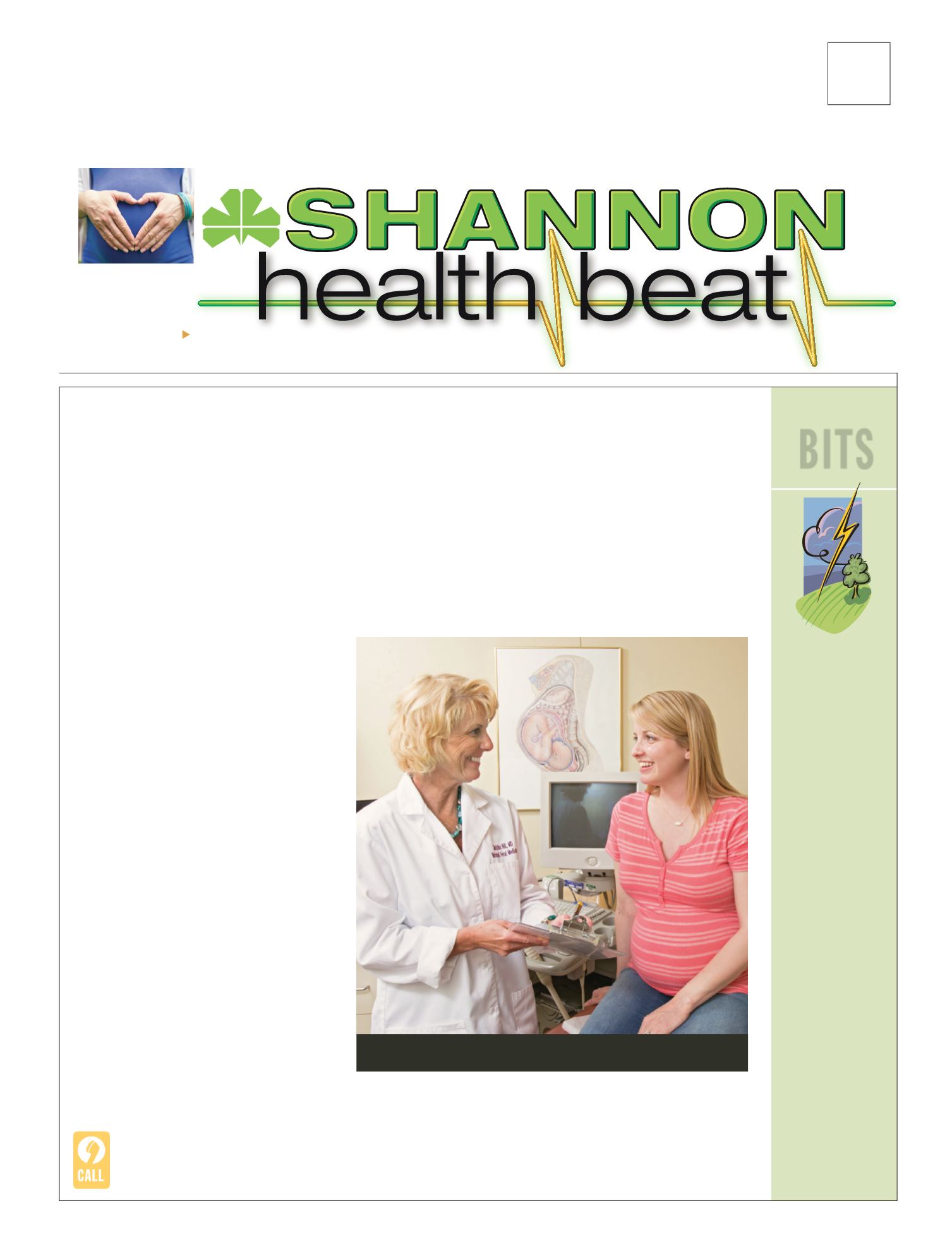 J O U R N A L O F W E L L N E S S A N D G O O D H E A L T H C A R E
●
S U M M E R 2 0 1 6
BITS
H e a lt h
Shannon Clinic is proud to welcome Christina
Hill, MD, to its OB-GYN team. As a maternal-
fetal specialist, she specializes in high-risk
pregnancy and works with expectant mothers
with chronic health issues.
✦
"I see patients
with gestational diabetes, hypertension and other com-
mon medical problems that are becoming more prevalent
in our population," Dr. Hill says. "I am able to counsel
these moms about the nature of their condition and its
implications with respect toward their pregnancy."
HELP FOR HIGH-RISK PREGNANCIES
Dr. Hill works
with each patient to outline a management plan for their
pregnancy that they take back to their OB provider.
Maternal-fetal specialists also diagnose birth defects
and growth problems and can initiate treatment before
birth.
"We are able to take on high-risk patients," Dr. Hill
says. "We can immediately address concerning find-
ings on ultrasound and then diagnose, treat and refer
to specialty care if the need arises. Even if we have to
refer a patient, they can leave our clinic with a greater
awareness about their situation, which we hope helps
curb their anxiety."
A TEAM APPROACH
Managing and treating each pa-
tient requires teamwork from the OB provider, Dr. Hill
and the mom.
"It's very much a team approach," she says. "We are all
under the same roof, and that makes it easier to consult
with one another. Ultimately, we are all working
together for the benefit of each expectant mom."
For more information, call Dr. Hill's office at
325-481-2285
.
SPECIALIST JOINS SHANNON CLINIC TO HELP WOMEN WITH HIGH-RISK PREGNANCIES
Christina Hill, MD, maternal-fetal specialist, performs a final consult and exam
on patient Taryn Hopper before the birth of Hopper's baby girl.
To find an OB-GYN at Shannon, visit
www.shannonhealth.com
and use the
Physician Finder on our home page.
LIGHTNING LOOKOUT
Summer is the peak
season for lightning
strikes. If you're with
someone who is
struck, call 911 im-
mediately. It's safe to
give CPR if you know
how—lightning strike
victims don't carry an
electrical charge.
National Fire Protection Association
THE GRILL DRILL
Outdoor gas grills
cause thousands of
home fires every sum-
mer. So before you fire
up the barbie for the
summer's first feast,
be sure it's working
right—and review the
safety tips that came
with it.
National Fire Protection Association
LULLABY, AND GOOD
NIGHT
Drifting into
dreamland to the
soothing sounds of
relaxing music may im-
prove your sleep—both
quality and quantity. It
could take up to three
weeks to see benefits.
National Sleep Foundation
Enhancing
PREGNANCY CARE
RISK-FREE TESTING
A simple blood test checks for
chromosomal abnormalities in
the 10th week of pregnancy.
See page 6
Nonprofit Org.
U.S. Postage
PAID
Platteville, WI
Permit No. 7
SHANNON
MEDICAL CENTER
120 E. Harris Ave.
San Angelo, TX 76903