1 / 8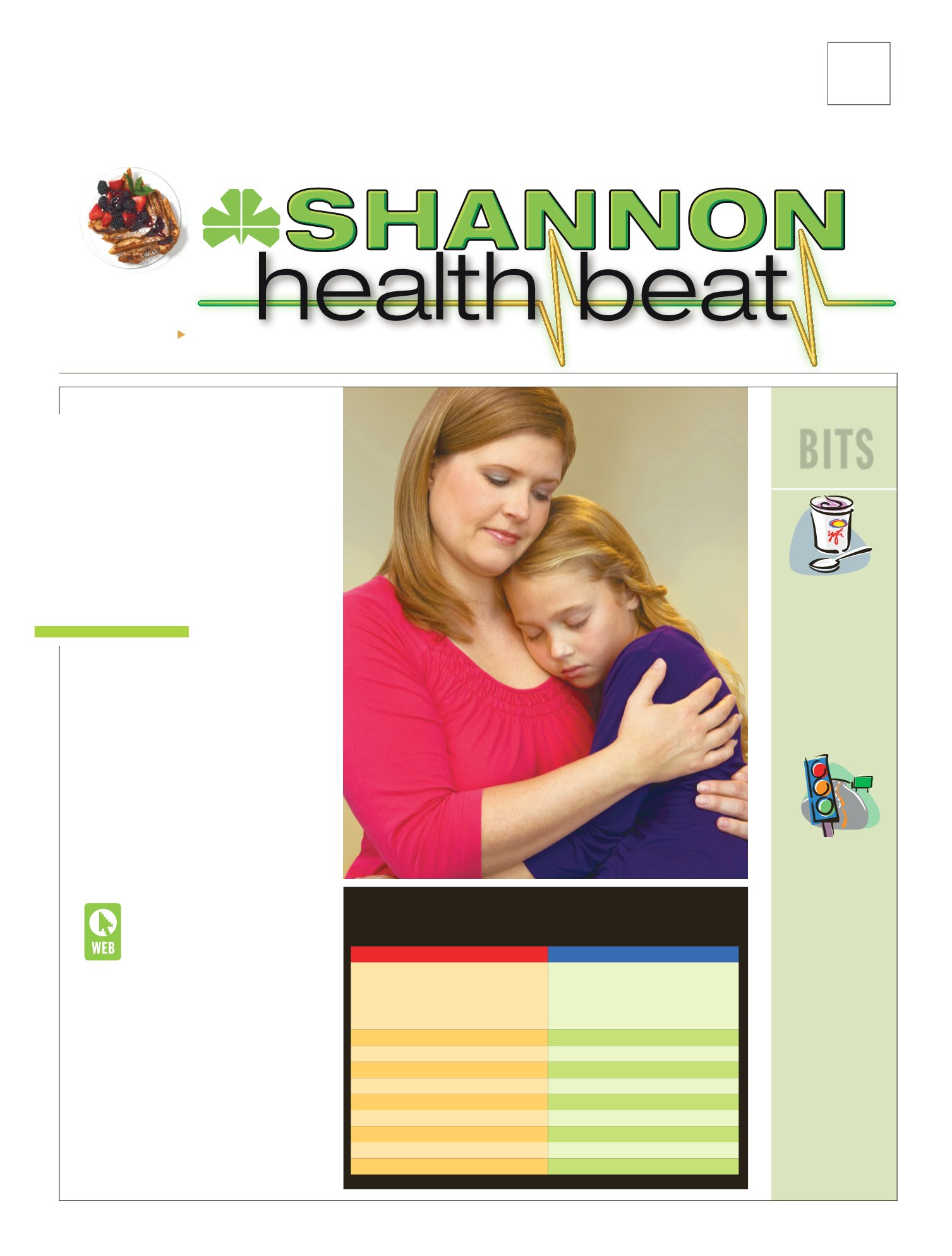 J O U R N A L O F W E L L N E S S A N D G O O D H E A L T H C A R E
●
W I N T E R 2 0 1 7
BITS
H e a lt h
KITCHEN TRICKS
Get 15 secrets to healthy,
delicious cooking.
See page 4
GOOD BACTERIA
Your
gut needs certain
bacteria to stay healthy.
Try eating foods that
contain probiotics,
which are good bac-
teria. Find them in
fermented foods, like
aged cheeses, kimchi,
sauerkraut and yogurt.
Academy of Nutrition and Dietetics
RED MEANS GO!
Beets
get their rosy color from
compounds called beta-
lains. Studies suggest
betalains may be both
heart disease and can-
cer protective. Canned,
cooked or raw, this red
root provides key nutri-
ents, such as vitamin C
and potassium.
American Institute on Cancer Research
WORTH THE WAIT
Microwavable foods of-
ten have recommended
stand times. Letting
food sit after it's been
zapped helps it cook
completely and bring
it to a safe internal
temperature.
Foodsafety.gov
Sometimes it's obvi-
ous when a trip to the
emergency depart-
ment is needed. Prob-
lems such as chest
pain or heavy bleed-
ing are clearly serious
situations that need
help and need it fast.
✦
But many times the
situation is less clear. That accidental cut might seem
deep—but not life-threatening. Your baby's fever is
high enough to concern you, but your pediatrician's
office is closed.
The emergency department is not the only option
when you would like to consult a medical profes-
sional. Urgent care is available and ideal when you or
your loved one is experiencing a non-life-threatening
medical situation.
Shannon has three urgent care clinics, so you can
choose the location most convenient for you. We
make it easier by providing call-ahead care, online
wait times and extended hours. Our physician-staffed
centers offer treatment of illnesses and injuries that
are urgent but not life-threatening. Using our centers
when it's not an emergency can be faster and less
expensive than a trip to the emergency department.
For more information about Shan-
non urgent care locations and services or
to check online wait times, please visit
www.shannonhealth.com
.
Our urgent care locations
Shannon Clinic North
2626 N. Bryant Blvd. • 325-481-2271
Open daily 7 a.m. to 8 p.m.
Shannon Urgent Care–South
3502 Knickerbocker Road • 325-481-2222
Open daily 7 a.m. to 10 p.m.
Shannon Urgent Care–West
4251 Sunset Drive • 325-481-2226
Open daily 7 a.m. to 10 p.m.
EMERGENCY DEPARTMENT
URGENT CARE CENTER
Call 911 or go to the emergency
department for a serious illness
or injury. Signs of an emergency
include:
This is the place to go when there's a
minor problem that needs treatment
but isn't an emergency. If your doctor's
office is closed, you might visit an
urgent care center for:
■
■
Trouble breathing.
■
■
Minor cuts that need stitches.
■
■
Chest pain or pressure.
■
■
Sprains and strains.
■
■
Any sudden or severe pain.
■
■
Minor bone fractures.
■
■
Fainting, sudden dizziness or weakness.
■
■
Insect or animal bites.
■
■
Bleeding that can't be controlled.
■
■
Minor burns.
■
■
Severe/uncontrolled vomiting or diarrhea.
■
■
Fever.
■
■
Coughing up blood.
■
■
Flu.
■
■
Suicidal feelings.
■
■
Coughs, colds and sore throats.
■
■
Problems speaking.
■
■
Earaches and infections.
Source: American College of Emergency Physicians
Urgent care vs. emergency care
When your doctor's office is closed, it may be hard to know if you should go to an
emergency department or an urgent care center. These lists can help you decide.
Nonprofit Org.
U.S. Postage
PAID
Platteville, WI
Permit No. 7
SHANNON
MEDICAL CENTER
120 E. Harris Ave.
San Angelo, TX 76903
HELP
WHEN YOU
NEED IT
URGENT CARE