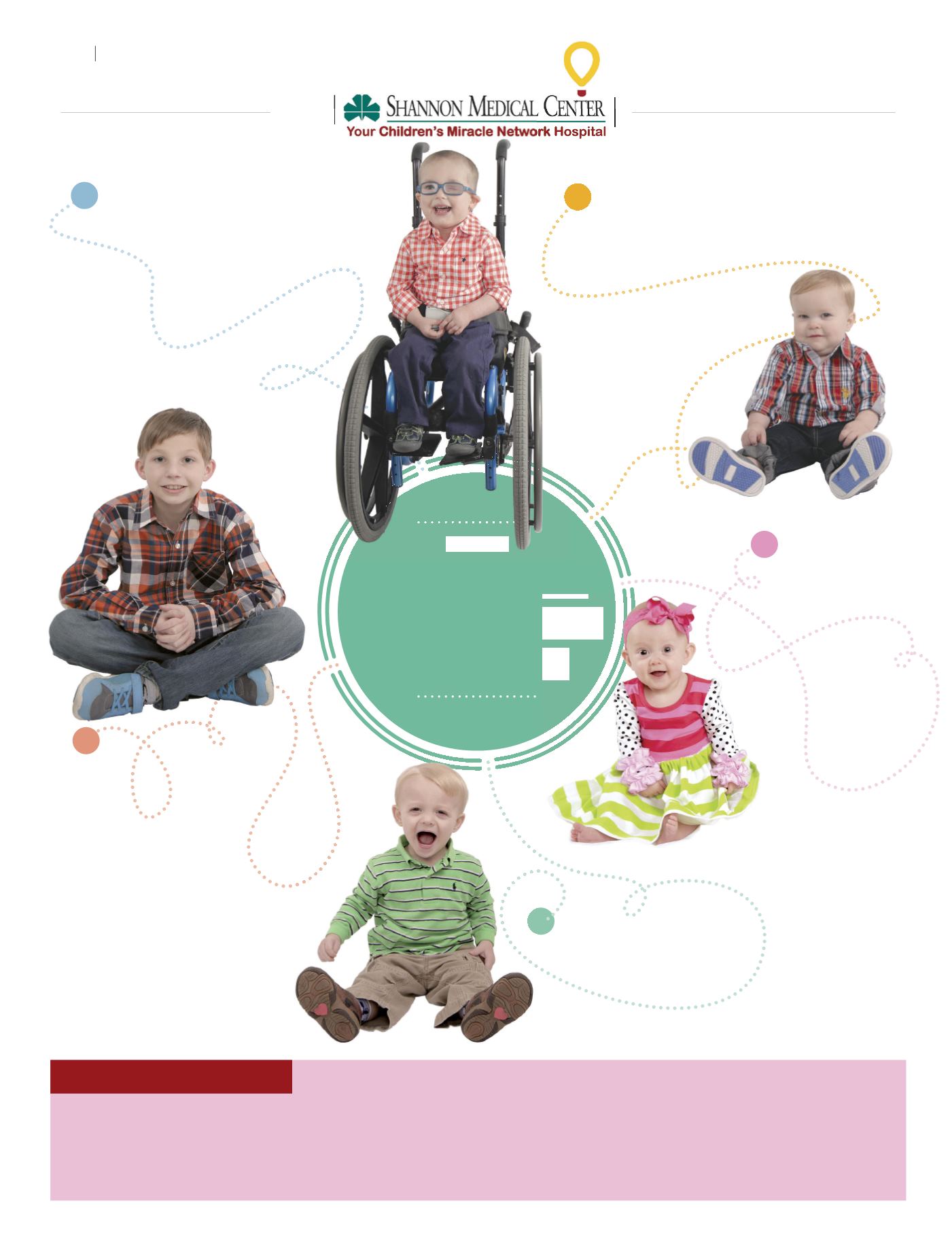 2015 CHILDREN'S
MIRACLE NETWORK
MIRACLE KIDS
Meet our
Save the date to tune in!
Children's Miracle Network annual celebration Telethon
Did you know you can help
local kids with a simple phone
call?
This year's Children's Miracle
Network (CMN) Telethon is
Saturday, June 6, from 2 to
10 p.m. on KLST-TV. The Telethon
provides an opportunity to thank
and recognize the many CMN
donors and sponsors.
It is also a time to share our
Miracle Kids' stories and talk
about the many items needed to
enhance care for children treated
at Shannon. You can help us
make more miracles happen by
calling and making a pledge to
CMN!
All proceeds benefit local
children in need and your CMN
hospital.
CMN would like to thank KLST,
Pediatric Dentistry, the San An-
gelo
Standard-Times
, Miracle Kids
and their families, and numerous
volunteers for their participation
and support.
To learn more about the Tele-
thon and how you can help, call
325-481-6160
.
JOURNEY WI ESE
is
months old and an abso-
lute doll. At just months
old, her parents noticed
something was not quite
right with her stomach.
A er a trip to see the pe-
diatrician, Journey was
diagnosed with malignant
neoplasm of the adrenal
gland. Her parents were
shocked to hear their baby
had cancer. Journey had
surgery to remove the
tumor and underwent
chemo treatments at Cook
Children's Medical Center.
Journey is now doing well
and learning to sit up! She
lives in Carlsbad with her
parents and three older
brothers.
LOGAN SYKES
is years old and loves Mickey Mouse, va-
nilla wafers and pizza! Logan has Lowe syndrome, which
primarily a ects the eyes, brain and kidneys. He developed
cataracts and glaucoma and has had numerous eye surger-
ies. His parents were told he would never walk or talk. He
stood up for the rst time last April, and he is walking with
the help of a walker! e very de nition of a Miracle Kid, Lo-
gan lives in San Angelo with his parents, sister and brother.
CORY TOUNGET
is months old and
loves " e Itsy Bitsy Spider," cook-
ies and playing blocks! At months
of age, Cory developed transverse
myelitis—a rare neurological disease
causing injury to the spinal cord
with varying degrees of weakness,
sensory alterations and autonomic
dysfunction. At the time of his diag-
nosis, he could not hold his head up
or hold his bottle. Today, Cory is an
active, busy toddler. His pediatrician,
Christina Sherrod, MD, says he's the
closest thing to a miracle she's ever
seen! Cory lives in San Angelo with
his parents.
GAGE GREGONIS
is years old and
is a fourth-grader at Lamar Elemen-
tary. Gage likes playing Minecraft
and Super Mario Bros., and his fa-
vorite subject in school is math. In
, a er having a headache for a
few days, Gage was diagnosed with a
brain sarcoma. A er Gage came in to
the Shannon emergency room, Luis
Duarte, MD, immediately removed
the sarcoma (about the size of an
orange) from Gage's brain. Gage then
completed chemotherapy treatments
and is doing well today. He lives in San
Angelo with his grandparents and his
older sister.
COOPER WILLIS
is almost years old and loves Curious George, Apple
Jacks and music. Cooper's mother was on a tour of the hospital while
working at Sam's Club, seeing rsthand the equipment Children's Miracle
Network had purchased. ree days later, Cooper was born prematurely
and completely quit breathing a er delivery. He spent days in the neo-
natal intensive care unit using several pieces of specialized equipment his
mother had learned about just days before. Cooper lives in San Angelo
with his parents, and he will be a big brother in August.
6
S P R I N G 2 0 1 5
H E A L T H
B E A T