1 / 8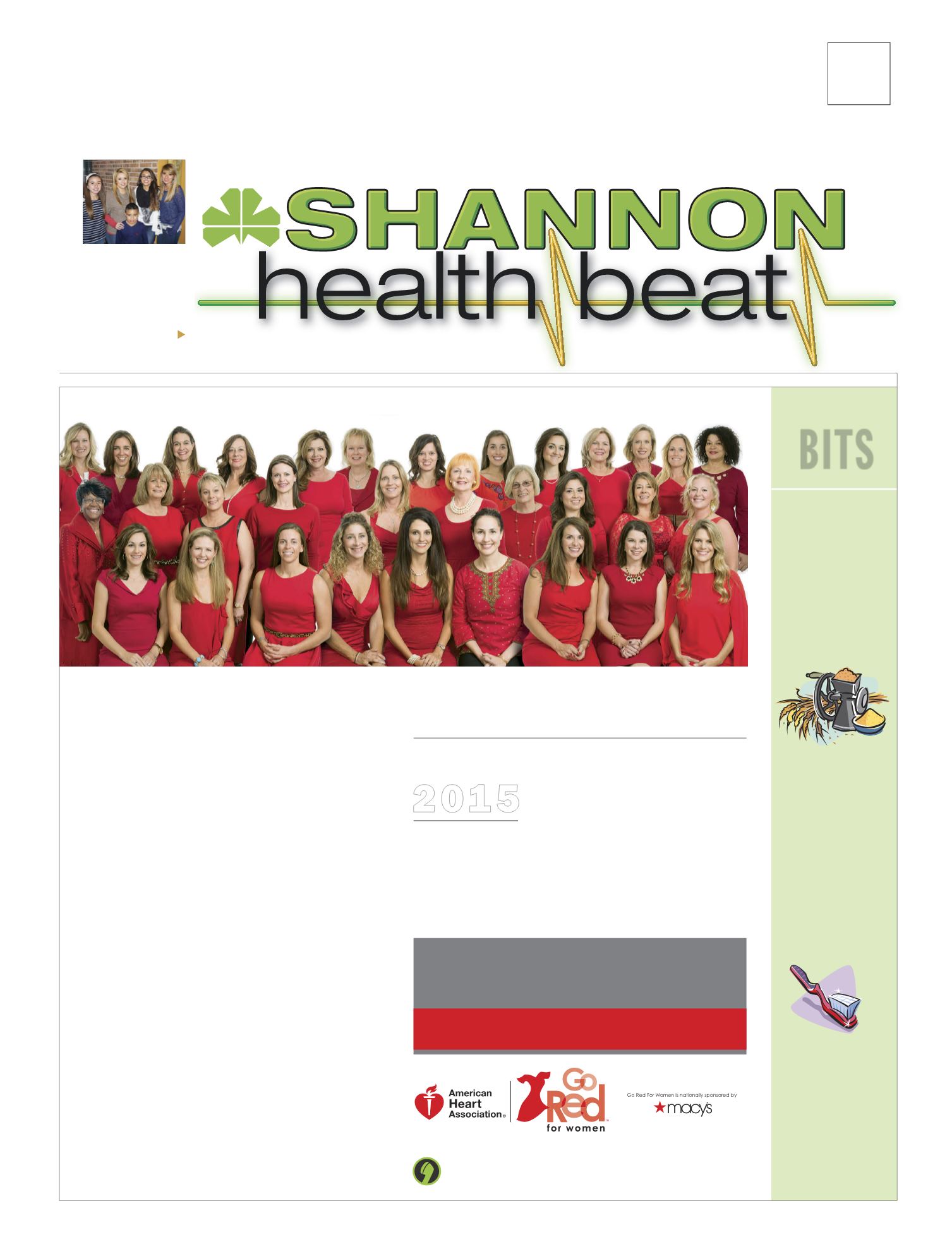 J O U R N A L O F W E L L N E S S A N D G O O D H E A L T H C A R E
●
W I N T E R 2 0 1 5
O
ne woman every minute! That's the rate
at which heart disease claims the lives of
women across the country. Heart disease
continues to be the No. 1 killer of women,
causing 1 in  deaths each year.
The good news is that more women are becoming better educated
about this deadly disease. They are learning the facts about how differ-
ent this disease can be for men and women and how to take steps to
address their risk for heart attack.
Events like Go Red For Women help women come together with
their friends and join in the fight. Please join us for the 2015 Go Red for
Women Luncheon on Feb. .
Breakout sessions will take place from 10:5 to 11:15 a.m. They will
feature health professionals who will give you steps to take today for
better heart health. They promise to be educational as well as fun!
Comedienne Leslie Norris Townsend will provide the keynote ad-
dress. The event will also include a "Purseonality" purse silent auction
and exhibit booths.
This is the ninth year for Shannon to sponsor the luncheon, which
encourages women to learn about their personal risk for heart disease
and to take action to reduce their risk. Rudy Haddad, MD, Shannon
Clinic cardiologist, will speak during the event.
"Heart disease affects women of all ages, and even a woman who
considers herself perfectly healthy can suddenly find herself experienc-
ing symptoms," says Dr. Haddad. "It's important that women of all ages
take a serious look at their risk and learn the steps they can take to keep
their hearts healthy."
Get your ticket now.
Tickets are 0 each and will be available through
Nonprofit Org.
U.S. Postage
PAID
Platteville, WI
Permit No. 7
SHANNON
MEDICAL CENTER
120 E. Harris Ave.
San Angelo, TX 76903
▲
2015 CIRCLE OF RED MEMBERS:
First row:
Crystal Conner; Joanne McClish; Kristin Lasiter; Diane Duarte; Christy Ross; Samia Benslimane, MD;
Dree Noble; Jill Vosburg; and Alisen Sanders.
Second row:
Sandra Gray, Tanoa Marsh, Candyce Pfluger, Vanessa Burkhalter, Lesa Wilson, Bette Allison,
Janet Harvey, Michelle Chapa, Camille Santry and Nicole McDuffie.
Third row:
Kendal Jastrow; Deanne Hume; Christina Sherrod, MD; Camille Huchton;
Sheila Velarde; Sue Felger; Colleen Haddad; Codi Kingman; Norma Schneemann, MD; Delilah Harper; Jackie Martin; Jill Haddad; and Michelle Chinn, FNP.
GO RED
FOR WOMEN
L U N C H E O N
PLEASE JOIN
US FOR THE
2015
Wednesday, Feb. 4 | 10:30 a.m. to 1 p.m.
McNease Convention Center
For tickets, call 325-481-6300.
AN UNPLEASANT SURPRISE
At only 35 years of age,
Sabrina Angeles had a major
heart attack. Her story might
help you avoid one.
SEE PAGE 2
BITS
H e a lt h
NO GAIN WITH PAIN
Exercise is good
for arthritis. But if
you have more joint
pain two hours after
exercising than before
you started, you've
overdone it. Ease up at
your next workout.
Arthritis Foundation
FLAXSEED FACTS
The
body can't digest the
ber in whole ax-
seed, so grind it in a
coffee or spice grinder
before using. To enjoy
its health bene ts
and nutty taste, add
ground axseed to
muf n mixes, cereals,
smoothies, cooked
veggies or salads.
American Institute for Cancer
Research
A SOFTER TOUCH
Toothbrushes are
nearly 5,000 years old.
Early ones were made
of things such as wood
and hog bristles. The
nylon-bristled ones we
use today came out in
1938.
American Dental Association
the end of January. To purchase tickets or for more information, please
call
- -
. All proceeds will help advance educational out-
reach and research programs of the American Heart Association.